Cowboys trading criticism for production with Greg Hardy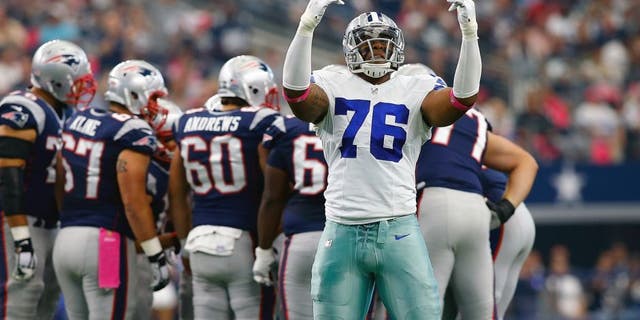 NEWYou can now listen to Fox News articles!
Katie Nolan was livid over the comments "garbage human" Greg Hardy made last week. Jay Glazer called Hardy a "moron." Terry Bradshaw believes Hardy, or anyone who lays a hand on a woman, shouldn't play another down in the NFL.
My FOX cohorts weren't the only ones to express concern over Hardy's comments from last week regarding Gisele Bundchen and her sister and how he hoped to come out "guns blazin' " in his first game in more than a year. Many other members of the media criticized Hardy for his comments and the Dallas Cowboys and the NFL for continuing to employ a player who was showing no remorse for alleged actions that got him convicted by a judge, only to see the case thrown out when Hardy's former girlfriend refused to cooperate.
On Sunday, with apologetic Ray Rice still hoping for another chance to play in the NFL, the defiant Hardy was getting after Tom Brady to the delight of the crowd at AT&T Stadium.
And with each one of those plays, Hardy showed why the Cowboys are willing to take the heat in exchange for a pass rusher in his prime.
Hardy played 41 of the Cowboys' 57 defensive snaps on Sunday (not counting kneeldowns) in his first regular-season action in exactly 400 days and was much more effective than many expected. He recorded two sacks and a forced fumble, knocked down Brady two more times, provided almost constant pressure and seemingly forced the New England Patriots to (successfully) alter their play calling at one point in order to neutralize him.
Though it might have made some viewers nauseous just to see No. 76 on the field, Hardy was a big factor. There's reason to believe he will continue to be so as he chases a lucrative contract extension before next season.
That's Hardy, the player. Hardy, the man, has yet to be vindicated.
"They're two different things," Cowboys owner Jerry Jones told reporters after the game, days after he attempted to brush aside the Hardy controversy in two interviews. "It has been universally accepted that he's an outstanding player. I think we haven't seen that written anywhere that he was not a difference-maker."
Jones went on to say the "best way" for Hardy to "try and show where is relative to his feelings" is to "take his success on the field and show ways that he's contrite and sensitive about domestic violence."
That would be a valid point, if not for the fact Hardy hasn't shown a desire to do that. Not even an inkling.
So for now, we can only assume the Cowboys are trading criticism for production. They got their share of the former last week and the latter Sunday.
Hardy had nine legitimate impact plays, beginning with with a pressure on the Cowboys' fourth defensive play of the game. With the Patriots attempting to chip him to provide help for left tackle Nate Solder, Hardy ripped outside and started making his way toward Brady. Linebacker Rolando McClain rushed free up the middle and got credit for the sack, though Hardy also got a piece of Brady and might have sacked him by himself if not for McClain.
On the next series, Hardy gave Solder a quick club and a move to the outside for a sack of Brady. Hardy then moved to left defensive end on the next series and, after getting called for illegal use of hands to Rob Gronkowski's face, Hardy chased down a running play away from him and made the tackle 11 yards downfield. One play later, he showed his power to fight off Gronkowski and stop LeGarrette Blount on a run up the middle.
Hardy's biggest impact came on the Cowboys' 16th defensive play, when he got underneath Marcus Cannon, who was in for the nicked-up Solder, on a rip move to strip Brady from behind.
"He's a good football player, and he works hard," Cowboys coach Jason Garrett said, adding: "He had a good week of practice, so it didn't surprise me that he would have a really good impact in the game."
By the latter part of the second quarter, the Patriots' offensive coaches seemed to have an idea that Hardy was going to have a much bigger impact than perhaps they expected. So on the first four plays of their fifth possession, the Pats ran quick throws to Hardy's side of the field while Solder threw cut blocks at Hardy's legs. Those plays were designed to neutralize him and perhaps chip away at his stamina.
Of course, as soon as New England went away from the quick stuff, Hardy beat Solder on a speed rush off the edge to get a hit on Brady. The next two plays were a screen and a run away from Hardy's side.
The strategy to make Hardy less effective worked well. The Pats scored their first touchdown on that drive to take a lead they wouldn't give back.
"New England didn't have an offensive tackle on the roster who could match him one-on-one in pass protection," former NFL personnel assistant and current director of the scout-training service The Scouting Academy Dan Hatman told FOX Sports after reviewing tape of Hardy's performance. "He showed a versatile pass-rush plan, leveraging his pure speed, his hand-to-hand combat and a conversion to power to keep the tackles off-balance."
Hatman noticed Hardy seemed to slow down early in the third quarter. That's not surprising for a player who isn't yet in football shape. Breaking for halftime and then gearing up again is taxing on the body, even for players who have seen regular playing time recently,
But Hardy rebounded in the fourth quarter to make three impact plays: a late pressure on Brady two plays into the quarter, a hit that definitely stung Brady on his 59-yard touchdown pass to Julian Edelman (Brady was wincing and jogging slowly to the end zone to celebrate the score) and a hustle play to stop Dion Lewis for no gain on a pitch play away from him late in the game.
"Teams will need to have a protection plan in place against Hardy in order to keep their quarterback upright," Hatman said.
In the meantime, the Cowboys should figure out what their public-relations plan for Hardy will be. They can't just point to his play on the field and say, "See, it's all worth it." That won't fly. And if they merely appear to be feigning empathy for domestic-violence victims, they'll only receive even more criticism.
"Hahaha, the Cowboys honoring breast cancer survivors (while) Greg 'pile of guns' Hardy is playing," one tweet read. "Welp."
For now, it appears the roughly $10 million Hardy is slated to make this season (with another $1.8 million available via sacks incentives) will give the Cowboys a defensive presence that will make offenses queasy.
Even if his presence on the field gives some fans and analysts the same feeling.