Cowboys rusher Alfred Morris says the free-agent process was 'very insulting'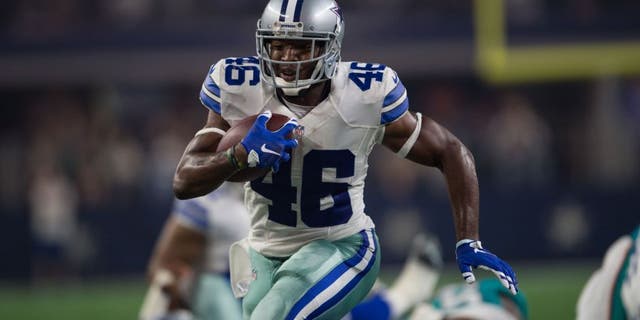 NFL players normally pine for free agency, but Dallas Cowboys running back Alfred Morris is definitely not in that camp.
The former Redskins running back recently went through the process, signing a two-year deal worth $3.5 million in March. But he found the open market to be less than appealing.
"The free-agency process was very insulting, to just say the least," Morris said, via ESPN on Wednesday. "I didn't like it one bit. I don't want to do it again."
Morris might have felt underappreciated, but his production has dipped each year since he ran for 1,613 yards as a rookie in Washington. He ran for a career-low 751 yards and averaged just 3.7 yards per carry last season, and Morris said he saw the writing on the wall with the Redskins.
"By the end of the year, I figured my time there was gone," Morris said. "You're not the coach's guy, you're not the GM's guy, they draft a young guy. It's a business, so I expected that. They just had a different plan and I wasn't a part of it and that was OK.
"I can't cry over spilled milk. I just had to go buy me another gallon."
It seems like Morris took the process very personally as teams brought up his decrease in production during the negations.
"It was a crazy experience and just due to last season and everybody saying my production went down, a lot of people threw shots at me and tried to say, 'Hey, he just wasn't good,'" said Morris, who's now backing up rookie Ezekiel Elliott.
Morris made the most of his limited opportunities in the Cowboys' Week 1 loss against the Giants, running for 35 yards on seven carries. The former sixth-round pick could have a bounce-back season behind Dallas' vaunted offensive line.
No matter what happens in Dallas, Morris is just trying to maintain a positive attitude.
"But you have to remember not to let that steal your joy," Morris said. "I still get an opportunity to live my dream. Is it going the way I wanted it to go? It's not, but that's OK because I'm still here. There's millions of people who would give anything to be in our shoes. So it kept me level-headed. I knew if it wasn't there, there would be other opportunities and I just happened to fall in Dallas. We'll see how this works out over time."