Couple's engagement is a defining moment of Olympics: 'Respect is a huge overlapping value'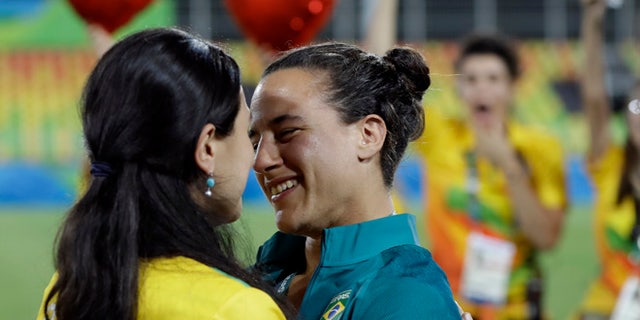 NEWYou can now listen to Fox News articles!
RIO DE JANEIRO (AP) – Isadora Cerullo has become a celebrity around Rio, more for what happened on the sidelines of the Olympic rugby stadium than for her performances on the pitch.
The stadium was largely empty after the women's rugby sevens tournament — the first in Olympic history — when venue manager Marjorie Enya walked onto the grass to ask Cerullo, her girlfriend, an important question: "Will you marry me?"
As volunteers and others surrounded them and held red heart-shaped balloons, Cerullo said yes. The moment was caught on TV cameras and broadcast around the world. So for all the tackling and try-scoring, it could just be the proposal that remains among the defining moments of the tournament.
People were still waving and calling out "well done" to Cerullo two days later outside the Deodoro Stadium on Wednesday as she stood for an interview with The Associated Press.
She takes great pride in the courage it took for Enya to pop the question in such a public forum.
"There is actually a statistic that more athletes are coming out after what happened, and even Rio has the highest number of 'out athletes' ever," Cerullo said. "So maybe we'll hear about more athletes being more comfortable, just being themselves and proud of who they are. I hope so".
Cerullo started playing rugby while she was studying biology and human rights at Columbia University in New York.
Her coach there, knowing Cerullo's parents were from Brazil, recommended Cerullo try out for the Brazilian team, which was fielding teams in the Olympic men's and women's rugby tournaments as the host nation. She has been living in Brazil since then.
And it was rugby that brought the pair together — Enya was the manager of Brazil's women's rugby sevens team when Cerullo joined the program in 2014 to prepare for the Olympics. They started dating not long after. Enya left her job at the rugby federation to take a position with the Rio 2016 organizing committee — ensuring they're both involved in the Olympics.
The Brazilian teams were never expected to win a medal, but performed above expectations and placed a credible ninth in the 12-team women's tournament won by Australia.
Cerullo believes her legacy as an Olympian, thanks to Enya as well, is significantly more important than some statistics for tackles and tries.
The unexpected proposal was "unbelievably special," she said, and fits with the spirit and values of the Olympics and rugby.
"Respect is a huge overlapping value of the two," Cerullo said. "To be able to feel free, comfortable and secure in Rio, and to be able to be myself and not have to hide anything is special. It's strange that it has to be something special, but at the same time it's special that we're getting so much positive support."
It was in stark contrast to the previous Olympics, the Winter Games in Sochi, where gay athletes and couples come under scrutiny because of Russian laws.
"Knowing that a lot of those athletes, seeing myself represented in those athletes, made me just really uncomfortable and upset in a lot of ways," Cerullo said. "I was studying human rights at Columbia at the time, so all that wrapped into those events made it really tough.
"Having a complete 180, a complete turnaround here in Rio, knowing that everybody is embracing this idea of respect and diversity and a lot of support for female athletes."
Gay marriage is legal in Brazil, says Cerullo, as well as in the United States. And that's a good thing, she added, because it means the pair can have marriage ceremonies in America and Brazil.