Countdown to Daytona: Terry Labonte made the No. 44 special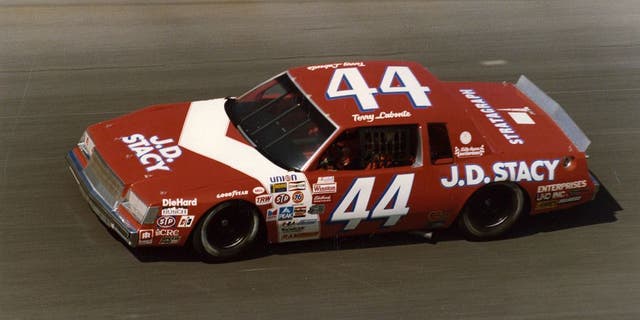 NEWYou can now listen to Fox News articles!
Only 44 days remain until the 2017 Daytona 500 commences, live on FOX.
The No. 44 is special in NASCAR because it is the car number Hall of Famer Terry Labonte drove to the first of his two championships while driving for owner Billy Hagan in 1984. Earlier, Labonte also drove the car when it was briefly owned by controversial NASCAR figure J.D. Stacy.
Labonte, who was inducted into the Hall in 2016, was by far the most successful driver ever to pilot a car featuring the No. 44. He made the most starts -- 259 -- and also racked up the most wins (6), the most poles (14), the most top fives (74) and the most top-10 finishes (138). He also led by far the most laps in the car number -- a total of 2,902.
But his NASCAR Premier Series title season of 1984 was his most special while behind the wheel of the No. 44. Driving a Chevrolet for Hagan and carrying the colors of primary sponsor Piedmont Airlines, Labonte was a model of consistency throughout the season, never falling lower than fourth in points after the third race of the long season.
Labonte won only twice that season -- at Riverside and at Bristol -- but he piled up 17 top-five and 24 top-10 finishes while fashioning impressive averages in starts (5.8) and finishes (8.3).
Labonte's last win in the car came at Rockingham on March 2, 1986 in the Goodwrench 500 at the now-defunct 1.017-mile track. A year later, he switched teams and car numbers, beginning to drive the No. 11 Chevy for future fellow Hall of Famer Junior Johnson with current FOX Sports NASCAR analyst Jeff Hammond as his crew chief.
During an appearance at the NASCAR Hall of Fame last year, Labonte reflected on his career, which ended up spanning 27 years.
"I did it for a long time. I loved the sport. I still do. I still follow it pretty close," he told FOXSports.com then.
Only five other drivers in history have won in the NASCAR Premier Series in the No. 44, with two of them residing in the Hall of Fame along with Labonte. Rex White and Lloyd Dane won two races apiece driving the 44, with Jim Paschal, Bob Wellborn and Curtis Turner winning one apiece. White and Turner are Hall inductees.
As for the 44th running of the Daytona 500, while we're dissecting the number in NASCAR history, that race was won by Ward Burton in a Bill Davis-owned Dodge in 2002. It was the first win for a Dodge entry since Richard Petty won in one 28 years earlier in 1974.