Countdown to Daytona: Kevin Harvick edges Mark Martin in No. 29 for 500 win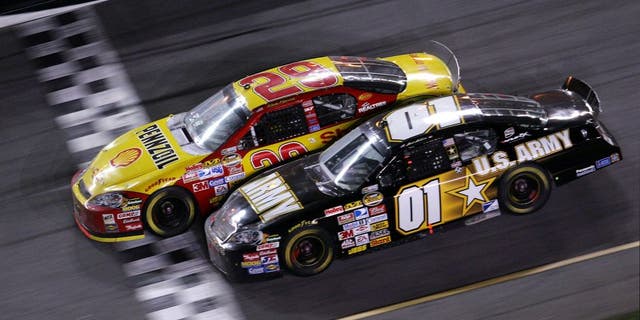 With only 29 days until the Daytona 500 on Feb. 26 at 2 p.m. ET on FOX, it's a great time to look back on the thrilling finish between Kevin Harvick and Mark Martin in the 49th running of the event in 2007.
With five laps remaining, crash involving Matt Kenseth, Dale Earnhardt Jr., Ricky Rudd and Jamie McMurray halted the race for 12 minutes while crews cleaned up the track.
Following the length red-flag period, a green-white-checkered finish would set up a wild two-lap shootout for the victory.
After 22 previous attempted eluded him from Daytona 500 victory, Martin in the No. 01 Ginn Racing entry looked poised to finally break into Victory Lane in NASCAR's biggest race, leading the field to green in overtime.
On the white-flag lap, a hard charge by Harvick in the No. 29 Richard Childress Racing Chevy propelled him to the outside of Martin coming out of Turn 4.
As a spin by Kyle Busch triggered a multi-car wreck, which included a violent flip for Clint Bowyer, Harvick and Martin battled side-by-side coming to the checkered flag.
Harvick edged out Martin at the line by 0.020 seconds to win his first career Daytona 500, while Martin was left a bridesmaid once again.