Countdown to Daytona: Celebrating the legend of Davey Allison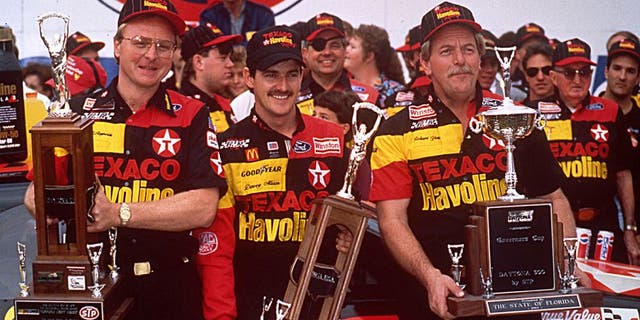 Daytona Day is almost here.
In just 28 days, Feb. 26 at 2 p.m. ET, the field will take the green flag to start the 2017 Daytona 500 on FOX.
And to mark the 28-day countdown, we celebrate the legend of Davey Allison, the 1992 Daytona 500 winner.
Allison drove the iconic No. 28 Robert Yates Racing Ford Thunderbird to a dominating victory on that day, leading 127 of 200 laps to finish ahead of Morgan Shepherd, Geoff Bodine and Alan Kulwicki, giving Ford a sweep of the top four finishing positions.
Four years earlier, in 1988, Allison finished second in the 500 to his father, Bobby, in a true feel-good Daytona 500 finish.
Davey Allison raced only six full seasons in the NASCAR Premier Series, but he left an indelible mark.
A true fan favorite, Allison won 19 of 191 Premier Series starts, a winning percentage of 9.95 percent. That's a far higher win percentage than recent NASAR Hall of Fame inductees Terry Labonte ( 2.47 percent), Dale Jarrett, (4.79 percent), Mark Martin, (4.53 percent) and Rusty Wallace, (7.79 percent).
Among his 19 victories, Allison won three of NASCAR's crown jewels: the Daytona 500, the Coca-Cola 600 and the All-Star race. He also scored multiple wins at NASCAR's biggest oval, Talladega.
But he wasn't a one-trick pony: Allison also won races on the 2-mile Michigan oval, on 1-mile tracks at Phoenix, Rockingham and Dover, on the Richmond and North Wilkesboro short tracks and at the Sonoma road course. He was good pretty much everywhere he raced.
Today, we remember the legend of Davey Allison and send well-wishes for a speedy recovery out to his former car owner Robert Yates, who completed his last round of chemotherapy this week.
And we look forward to the Great America Race, four weeks from today on FOX.