Could Stephen Curry score 100 points in a game? He's thinking 75-ish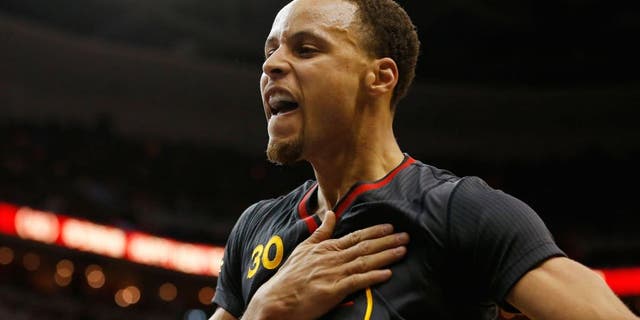 NEWYou can now listen to Fox News articles!
While he's been red-hot almost the entire season, there have been two games from Stephen Curry this season that have been particularly riveting. In the Golden State Warriors' third game of the season, when they faced the New Orleans Pelicans, Curry scored 53 points. And on Thursday night against the Minnesota Timberwolves, he tallied 46. Add them up, and he's just one point shy of 100 in two games.
That's pretty good, but it's not quite on the level of Wilt Chamberlain. So that's the question, right? Could the reigning MVP match Chamberlain's NBA record of 100 points in a game? Yahoo! Sports' Marc Spears posed the question to Curry, who didn't completely dismiss the notion, but lowered the bar:
If Curry is curious, we do have a box score from Chamberlain's game. He was 36 of 63 from the floor and 28 for 32 from the free-throw line. Chamberlain's Philadelphia team scored over 40 points in three of four quarters, tallying 37 in the second, to total 169 points.
Kobe Bryant's 81-point game might be a more attainable target. Bryant was 7 of 13 on 3-pointers that night against the Toronto Raptors; in Curry's two big scoring nights this season, he's shot 8 of 14 and 8 of 13 from deep. But the Los Angeles Lakers star chucked 46 total shots on the night (making 28). According to Basketball-Reference, Curry has only thrice attempted more than 32 shots in a game. His career high for field-goal attempts is 36. If those numbers held up, Curry would have to make up the difference in efficiency -- and Bryant, as previously indicated, was pretty efficient in his 81-point game.
Could Curry score 100, or even 81? Probably, sure, although his career high to this point is just 54. Will he? That's a whole different question.