Could Angels kick the tires on a potential Evan Longoria deal with Rays?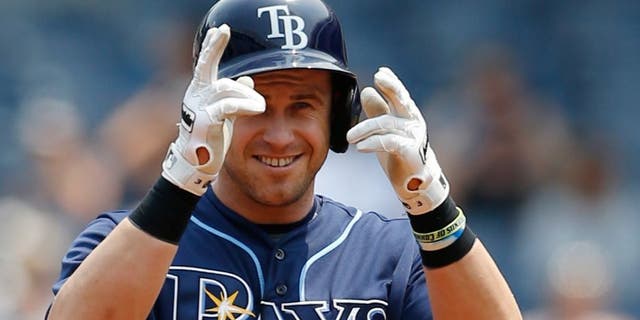 NEWYou can now listen to Fox News articles!
Tampa Bay Rays designated hitter Evan Longoria gestures toward the dugout after hitting a first-inning double in a baseball game against the New York Yankees at Yankee Stadium in New York, Sunday, July 5, 2015. (AP Photo/Kathy Willens) Kathy Willens AP Photo
Heading into the offseason, the Los Angeles Angels have one major area on which to focus: Third base.
Veteran David Freese will enter free agency after the World Series and could ask for more on the market than the Halos and new GM Billy Eppler would be willing to pay for his services.
Nick Cafardo of the Boston Globe, meanwhile, floated an intriguing name in a recent notes column that could (in his words) be a 'perfect Angel': Evan Longoria.
The face of the Tampa Bay Rays' franchise is 30 and has seven years remaining on his contract. In 2015, Longoria hit .270/.328/.435 with 21 home runs and 73 RBI while posting a WAR of 3.2.
Of course, the Rays might not even have any inclinations to trade Longoria, a Downey native who went to California State University Long Beach (the same school as Angels pitcher Jered Weaver). They were a respectable 80-82 in 2015 and could be good relatively quickly.
However, the Angels do need to improve upon their offense before 2016 and could presumably put together an offer the Rays would deem appropriate.
Then again, this could all very well pan out to nothing at all - such is the nature of 'Hot Stove Season' in MLB.