Conor McGregor vs. Floyd Mayweather official for Aug. 26 in Las Vegas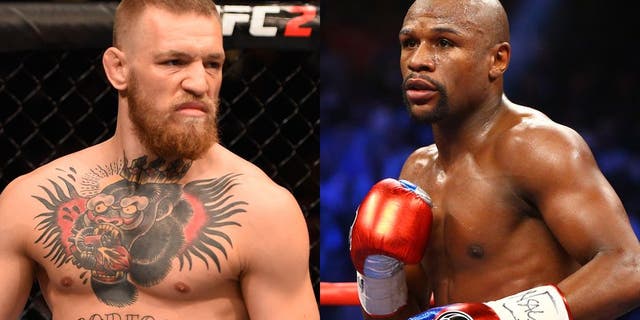 NEWYou can now listen to Fox News articles!
One of the biggest fights in combat sports history is now official.
UFC lightweight champion Conor McGregor and Floyd Mayweather have inked a deal to meet in a boxing match on Aug. 26 in Las Vegas.
The fight has been rumored for more than a year but only got deep into negotiations more recently with Mayweather coming out of retirement for the bout after stepping away from the sport in 2015.
Sources close to the contest confirmed the news to FOX Sports on Wednesday following an initial report from Yahoo! Sports. McGregor and Mayweather subsequently confirmed the fight on social media.
According to the initial report from Yahoo! Sports, Mayweather Promotions will lead the promotion for the all boxing card with Showtime leading the pay-per-view broadcast. The fight is expected to take place in Las Vegas after the Nevada State Athletic Commission approved the date on Wednesday.
McGregor has been pushing for the fight for most of 2017 while he took an extended break while awaiting the birth of his first child and competing three times last year.
Now McGregor will step into the boxing ring for the first time ever in one of the most lucrative matchups of all time. Despite being a novice in the sport compared to Mayweather, who is a mult-time champion, McGregor has been confident that he's not stepping into the ring just to cash a paycheck.
He's coming to win.
In May, McGregor finalized his part of the deal for the fight with the UFC to allow him to compete in the boxing match against Mayweather. UFC president Dana White handled the negotiations to reach a deal with McGregor, who has become the biggest draw in the history of mixed martial arts over the last few years.
As soon as White had McGregor handled, he moved onto Mayweather so the two sides could hopefully come to an agreement on a fight that could break records on pay-per-view as well as live gate for attendance.
Now all parties have agreed as Mayweather will put his 49-0 record on the line while returning to action almost exactly two years after he walked away following his final fight against Andre Berto.
The showdown between McGregor and Mayweather is now set for Aug. 26 in Las Vegas.