CONCACAF Gold Cup: U.S., Mexico Set for Border Face-Off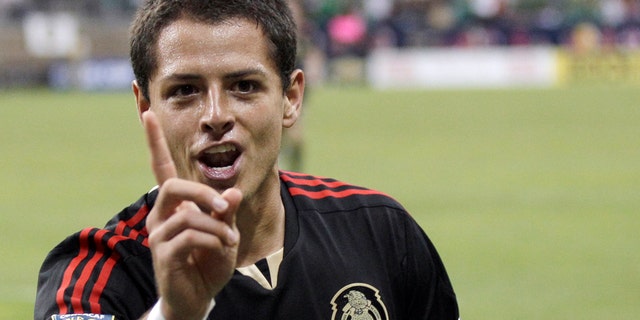 Well, the world got what it wanted for the CONCACAF Gold Cup final.
Everyone, that is, except Honduras and Panama supporters.

Defending champion Mexico and the United States booked spots in Saturday's championship game, as both sides reached the championship game by the slimmest of margins.

Trying to avoid a second defeat to Panama in two weeks, the U.S. used a Clint Dempsey goal in the 77th minute to upend its Central American rivals, 1-0, in the first game of a doubleheader at Reliant Stadium in Houston on Wednesday. This will be the Americans' fourth consecutive final appearance and eighth overall.

El Tri took a lot more drama in a physical affair before the capacity crowd of 70,267, needing two goals in extra-time after a stubborn and physical Honduras side played them even in 90 minutes of scoreless soccer. Aldo de Nigris and the fabulous Javier "Chicharito" Hernández struck in the opening nine minutes of the first extra period to book the Mexicans' seventh appearance in the final.

The two North American superpowers own the Gold Cup trophy. Except for Canada taking it north in 2000, the Mexicans and Americans have dominated the tournament, with El Tri parading with the hardware five times, the U.S. on four occasions.

The last time these two teams met for the Gold Cup was at old Giants Stadium in East Rutherford, N.J. in 2009. That stadium has since been demolished, but both sides still have memories of Mexico's 5-0 demolition of the U.S.

It would not be surprising if both teams use that game as motivation.

The Americans, who were using essentially a B or C team in the 2009 tournament because the A team had competed in the FIFA Confederations Cup in South Africa only weeks prior, will want to prove that result was a fluke.

The Mexicans, who won for the first time on U.S. soil in more than 11 years, will want to prove they are over any jinx or hex they have endured when they play at the northern neighbors.

Wednesday wasn't as much about pretty soccer as it was about survival.

At this stage of the tournament, teams can care less about entertaining the fans – the highs and lows of the match and how close it was will take care of that – than reaching the finish line. And the only way to do that is to finish.

For most of their 120-minute encounter, the Mexicans did just about everything but find the back of the net. They had entered the match having outscored their rivals in the competition, 16-2, and had lived up to their status as the pre-tournament favorites.

But a stingy and resolute Honduran team had something to say about that, using everything it could throw at Mexico, which included rough tackles that resulted in 10 yellow cards. Slowly but surely, though, the Mexicans wore out their rivals before second-half super sub De Nigris struck yet again for a 1-0 advantage in the 93rd minute.
Chicharito, who missed several close encounters in regulation, added an insurance tally for some much-needed breathing room and his tournament-high seven goals in five games.

On a team with stars and superstars who make big paychecks in Europe, De Nigris, who plays domestically in the Mexican Primera Division with Monterrey, has turned into a key performer, coming off the pine to spark the team or score goals. He could wind up as a valuable piece in Saturday's final.

The lesson about Chicharito is simple: Don't give him too many scoring opportunities or – even if given but one opportunity – he will burn you. He may look much younger than his years, baby-faced and all, but don't let appearances fool you.
Chicharito is a lethal assassin when he is front of the net.

The Americans didn't need 11th-hour heroics, but they kept their supporters' hearts pumping until the 77th minute when Dempsey played hero yet again with his 22nd international goal.

The man who set up the play? Freddy Adu, who made his first appearance of the competition. You might remember Adu. He was supposed to be the savior of American soccer when he signed with Major League Soccer as a 14-year-old.
Those ludicrous expectations were thrown on his shoulders, something that even David Beckham could not do single-handedly, let alone a teenager. He had some highs and lows in MLS before venturing overseas to find some full-time work with a European team.
It has been difficult. Now 22, Adu's most recent team was as a loan player Turkish Second Division side Caykur Rizespor.

Adu, who replaced Juan Agudelo in the 66th minute, made his impact 11 minutes later as he found a streaking Landon Donovan on the right flank. Donovan then sent a perfect pass to Dempsey, who finished at the far left post.

It remains to be seen if Adu will play in the championship game, but he did prove himself under pressure on Wednesday night.

Moving forward, both teams will enter the final exhausted. They were scheduled to travel from Houston to Los Angeles on Thursday, practice Friday and play Saturday.

That is not what you want when the top two teams – superpowers – in your region battle for the top prize. Organizers could have played the final on Sunday, giving both sides another precious 24 hours of rest and recuperation.
It's the least CONCACAF can do for the players and fans (yes, the game at the Rose Bowl is a sellout).

Both teams have been forced cram six games within a three-week period, getting perhaps two or three days between games while bouncing from city to city. The Mexicans got a two-day head start, kicking off the competition on June 5, the Americans two days later. By Saturday, the U.S. will have played six games in 19 days, a ridiculous pace.

The Mexicans weren't helped by losing five players – two starters – to drug suspensions imposed by the Mexican Football Federation, although CONCACAF allowed them to replace them for the final week.

Besides bragging rights and a trophy, also at stake is an opportunity to play at the 2013 FIFA Confederations Cup in Brazil. Just ask how participating in the 2009 Confederations Cup helped the Americans in their preparation for the World Cup in South Africa the next year. It helped them get acclimated to the environment and win some fans over as well.

Of course, the winner would have to qualify for the 2014 World Cup to make the Brazil trip really worth it. But first let us enjoy what hopefully will be a memorable final Saturday – if no one drops from exhaustion, that is.
Michael Lewis, who has covered international soccer for three decades, is a frequent contributor to Fox News Latino. He can be reached at SoccerWriter516@aol.com.
Follow us on twitter.com/foxnewslatino
Like us at facebook.com/foxnewslatino