Colts using preseason to prepare for more two-point attempts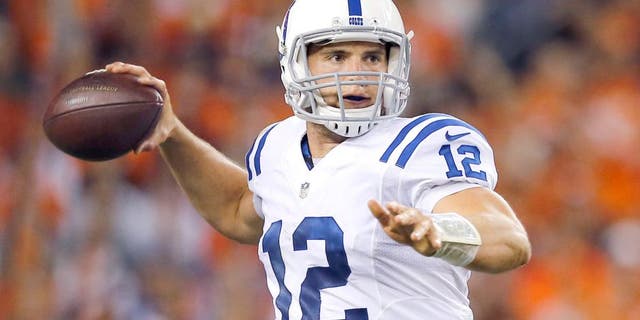 NEWYou can now listen to Fox News articles!
With the NFL's decision to move the line of scrimmage on extra-point attempts this season from the two to the 15-yard line, Indianapolis Colts head coach Chuck Pagano said he's anticipating a rise in the number of times his team and others around the NFL will go for two this season.
With that in mind, Pagano and the Colts are using the preseason to work on their two-point conversion attempts. Last week against the Chicago Bears, Pagano elected to bypass a point-after attempt to give his team practice on going for two. After a second-quarter touchdown, Andrew Luck found Andre Johnson for a successful conversion.
Pagano said the rule change will give rise to a number of different factors when deciding whether to go for two or kick the longer extra point.
"Depending on the game situation and where you're playing, indoors, outdoors, in January football, those things are all going to come into play," Pagano said, per the Indianapolis Star.
Pagano said he and his staff are using the preseason to experiment with which type of plays can be successful on two-point attempts.
"You have to look at your two-point (guidelines) now," Pagano said. "The defense being able to return a blocked kick for two points now factors in, weather conditions -- a lot of things. It's the time to work on it.
"You have to expand your menu on both sides of the ball."
(h/t Indianapolis Star)