Colts quarterback Andrew Luck looking for a win against Tom Brady, Patriots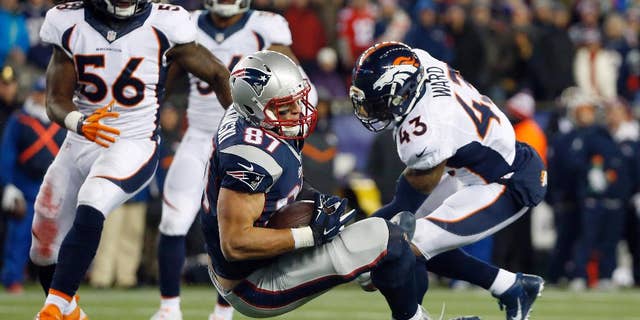 NEWYou can now listen to Fox News articles!
INDIANAPOLIS – Andrew Luck has lived with his mistakes from last year's loss to the Patriots all through the offseason.
It's time to move on.
The Colts' quarterback, who threw four interceptions in last season's playoff loss to New England, is ready to make amends in Round 3.
"You look back at them and see maybe where we went wrong and what went well," he said of this week's film sessions. "We realize it's a different year, personnel changes, lots of things change. But you do have to prepare and unearth every stone, if you will, when you're playing a very good team like this."
For Luck, it's another opportunity to show a national audience how much he's progressed in three NFL seasons.
Luck has thrown for a league high 3,085 yards and is on pace to break Peyton Manning's single-season franchise record.
He's second, to Manning, with 26 touchdown passes. He's already broken a franchise record with seven straight 300-yard games and needs only two more to tie Drew Brees' NFL record. And he's already beaten both Mannings, Aaron Rodgers, Russell Wilson, Joe Flacco and Colin Kaepernick.
The most glaring omission from that list: three-time Super Bowl winner Tom Brady, who is 2-0 against the man generally regarded as the best young quarterback in football.
Brady, like just about everyone else, is impressed.
"He does a lot of things I wish I could do," Brady said, referring to Luck. "He's big, fast, shrugs off blockers. He makes a lot of extended plays. He's a great passer."
But against New England (7-2), Luck has struggled. In two games, both blowout losses, he's 47 of 91 for 665 yards with four touchdowns, four sacks, seven interceptions and one lost fumble.
Brady, in contrast, has usually avoided the big mistakes and is 11-4 against Indianapolis (6-3) since making his first career start against the Colts in 2001.
That's what Luck wants to become. He'll get a chance this weekend.
"He (Brady) does a lot of things I can't do. There's a lot of Super Bowls so far," Luck said, laughing. "Hopefully you can get to that type of level with that production and that success. I think his mastery of the quarterback position is something I definitely admire from afar and what he's able to do consistently for every game for so many years."
Here are some other things to watch Sunday.
KICKIN' IT: Patriots kicker Stephen Gostkowski leads the NFL in scoring with 101 points. But Gostkowski's predecessor, 41-year-old Adam Vinatieri, is on the cusp of two more milestones. The Colts' kicker needs two points to become the fourth member of the 2,100-point club and he needs eight to reach the 100-point mark for the 17th time in his career. That would break a tie with Jason Elam and give Vinatieri the NFL record.
STREAKY TEAMS: The Colts have won six of their past seven to regain control in the AFC South. New England has been unbeatable since a Monday night loss at Kansas City, winning five straight to take control of the AFC East. The stakes this weekend might be even higher. To the winner goes a potentially key chip in playoff positioning.
TIGHTEN UP: Luck and Brady are likely to lean heavily on their tight ends again this weekend. Rob Gronkowski leads the Patriots with 663 yards receiving and eight touchdowns and is second with 49 catches. Colts tight ends Dwayne Allen and Coby Fleener don't get as much publicity, but they're combined numbers — 48 catches, 669 yards and 11 TDs — are almost identical to Gronkowski.
FOR WHOM THE BELL TOLLS: Belichick has reached plenty of milestones in his career. A win Sunday would add another item to the list — 14 consecutive seasons without a losing record. It's the longest active streak in the NFL and when the Patriots win No. 8, Belichick will tie Curly Lambeau for the second-longest streak in league history. Only Dallas' Tom Landry (20) had more.
BYE BYE: Belichick and Colts coach Chuck Pagano both had extra time to work on the game plan thanks to a bye week. Who has the edge? It's anybody's guess. Belichick is 10-4 since 2000 following a bye. The Colts are 11-3 over the same span and Pagano is 2-0 as a head coach after a bye.
___
AP NFL website: www.pro32.ap.org and http://twitter.com/AP_NFL