Colts LB Mathis wins AFC Defensive Player of the Week award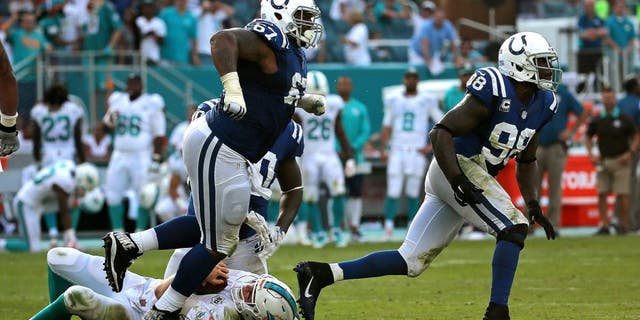 Indianapolis Colts linebacker Robert Mathis, whose of sack of Miami Dolphins quarterback Ryan Tannehill helped seal the Colts 18-12 victory Sunday, was named the AFC Defensive Player of the Week for Week 16.
Mathis had five tackles and 2.0 sacks in the win, including his fourth-down takedown of Tannehill with :40 remaining and the Dolphins at the Indianapolis' five-yard line.
This is the fourth time Mathis has been named AFC Defensive Player of the Week in his 13-year career. He last won the award after Week 16 of the 2011 season.
Mathis leads the Colts with 7.0 sacks on the year with Sunday marking the 29th multi-sack game of his career.
The 34-year-old is the fourth Colt to win Player of the Week honors this season. Safety Mike Adams and cornerback Darius Butler were named AFC Defensive Player of the Week for their work in Weeks 5 and 9 respectively, while punter Pat McAfee was named AFC Special Teams Player of the Week after Week 3.
Mathis and the Colts close out the regular season Sunday at home against the Tennessee Titans.