Colts DL Hankins refuses to back down from bold talk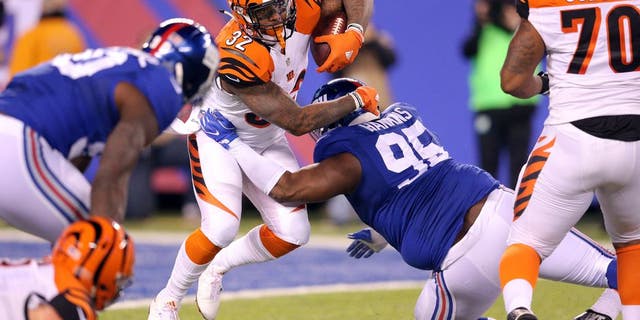 NEWYou can now listen to Fox News articles!
INDIANAPOLIS -- Johnathan Hankins insists he's not much of a talker on the football field.
Off it, he does what he must.
Three weeks after the defensive lineman declared the revamped Indianapolis Colts could have the AFC's best defense, Hankins reiterated those thoughts as the Colts continued their offseason work.
"I think it's just knowing what a good defense is and seeing the guys we brought in," Hankins said. "We all have the right mindset to win a Super Bowl. I think you have to set some high standards for yourself and you've got to work to do it."
Make no mistake, a quick turnaround will take a great deal of work in Indy.
The Colts finished last season ranked No. 30 in total defense, No. 27 against the pass, No. 25 against the run, and No. 22 in points allowed. It was not an aberration.
Since Chuck Pagano took over as coach in 2012, his defenses have finished in the league's bottom third three times and only once ranked higher than No. 20.
So, after Indy struggled to find a consistent pass rush and stop the run the last two seasons, new general manager Chris Ballard spent most of his offseason cash and the NFL draft trying to improve Indy's most glaring flaw.
Brian Spurlock | Brian Spurlock-USA TODAY Sports
Hankins signed in mid-April and got the biggest deal of all: a three-year pact worth $30 million. A month later, he told NFL Network he was confident the Colts' defense wouldn't just be better.
"On paper, it looks good, but we've got to go out there and prove it," he said then. "We've got a great quarterback here, as y'all know, Andrew Luck, and some great weapons on offense. So, if we can just come together during OTAs, and once training camp starts, get a good feel of everybody and just trust each other, I feel like we'll be real dominant out there."
Pagano has heard all of this before.
Prior to joining the Colts, Pagano coached at the University of Miami and was Baltimore Ravens defensive coordinator. He worked with outspoken stars such as Ray Lewis, Ed Reed and Terrell Suggs.
"If you're going to do it, you've got to back it up. You put it out there, you better show up," Pagano said. "I don't sit there and promote that. I don't think any coach at any level promotes that."
But Hankins felt like the Colts' defense needed a boost of confidence and he couldn't wait to bring it.
"I think we've got the right guys, we've got some weapons on defense, myself included. We just have to continue to put the work in to do it," he said. "I feel like I have to be a leader. If you don't have high goals, what are you working for? So I felt like I had to do it."
NOTES: The Colts finish their offseason work next week with a three-day mandatory minicamp next week, and Luck still has not thrown a pass. That's not a surprise. Luck wasn't expected to start throwing until at least the start of training camp in late July. Pagano reiterated even that might be pushing it. When asked if there was a timetable for Luck to begin throwing, Pagano said: "No. We're just following the protocol. We're listening to the trainers and he's listening to the trainers."