Colts, Andrew Luck reportedly on track toward massive contract extension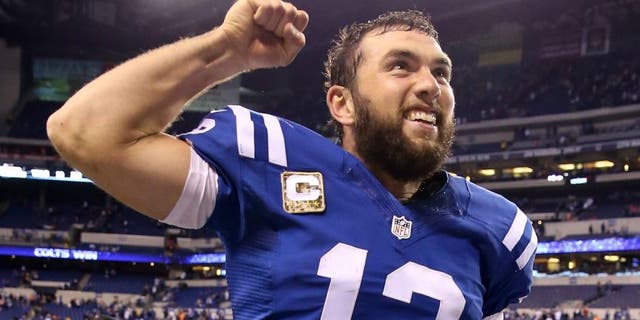 NEWYou can now listen to Fox News articles!
The Indianapolis Colts and Andrew Luck are reportedly edging closer to a long-term contract agreement for its starting quarterback.
According to NFL's Ian Rapoport, the two sides are on track to complete a mega contract extension sometime in July.
The Colts' starting quarterback told NFL Media's Kimberly Jones on Tuesday that he believes a long-term deal will, in fact, get done.
"When it's the right time, it will get done," Luck said. "I honestly don't spend much time worrying about it."
And if and when it does get done, the new contract will likely make Luck, who played only seven games last season after suffering a lacerated kidney and a partially torn abdominal muscle in November, the highest-paid player in the history of the league.
Currently, that distinction goes to the Ravens' Joe Flacco, who is averaging $22.1 million annually on a three-year contract extension.
The first overall pick of the 2012 NFL Draft, Luck was slated to make $16.155 million next season in the final year of his rookie contract. Without a contract extension, he was slated to receive $25 million and $35 million in 2017 and 2018 under back-to-back exclusive franchise tags. According to Rapoport, that $76 million over three years may serve as the basis for contract extension talks.
Though Luck himself does not appear to have big designs on what to do with those potential big bucks.
In May, the quarterback said he was going to buy a "robot ping-pong thing that can hit balls back at you" with his fresh new dough.
"My buddy has one, and he swears by it," Luck said.