Colombia's stunning win over France brings more attention to Women's World Cup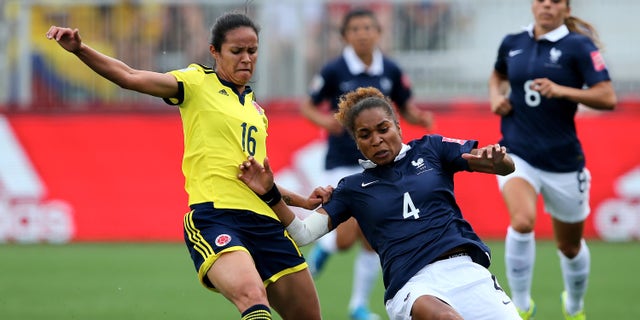 VANCOUVER, British Columbia (AP) – Colombia's victory over France proves no team can be underestimated at the Women's World Cup.
Top-ranked Germany is certainly aware of it as the team prepares to face Thailand in its group-stage finale Monday.
"If we let them, they will play around us, and we want to avoid that," Germany coach Silvia Neid said. "So we all have to play very, very well together."
Colombia pulled off the biggest upset of the group stage — and among the biggest upsets in the history of the tournament — with its 2-0 decision over third-ranked France on Saturday in Moncton, New Brunswick. Colombia, which had never won a World Cup match, came into the World Cup ranked No. 28.
France, by the way, defeated the United States 2-0 back in February in Lorient. The team outshot Colombia 21-3 in the loss.
Columbia played to a 1-1 draw against Mexico in its opener, and now leads Group F with four points. France and England have three points apiece, with the group's final matches set for Wednesday.
Germany, considered among the favorites to win the World Cup, defeated Ivory Coast 10-0 in its opener before playing to a 1-1 draw with surprisingly resilient Norway. Germany leads Group B with four points, while Norway and Thailand each have three.
"Many teams that we didn't know that well are showing considerable skill," German midfielder Melanie Behringer said through a translator Sunday. "I also think Switzerland is doing really well. They're new to this level, too."
Thailand, ranked No. 29, fell 4-0 to Norway in its opener before defeating Ivory Coast 3-2.
Only defending champion Japan and Brazil have secured spots in the knockout stage among the expanded field of 24 teams at the Women's World Cup. The top two finishers in each group move on, as well as four of the third-place finishers.
Here are some of the other things going on at the Women's World Cup:
BRINGING THE FLAIR: While Canada has played solid defense, the hosts have only one goal through two matches.
Christine Sinclair's penalty kick, in stoppage time at the end of the World Cup opener gave Canada a 1-0 victory over China. Then the team played to a 0-0 draw with coach John Herdman's former team, New Zealand.
Herdman says he'll tweak the lineup, which was the plan going into the third game, but added that the team needs to bring flair to its match against the Netherlands on Monday in Montreal.
"I think we're creating some chances. I think the main thing for us is, one, we'll be freshening the team up ... and the other piece is just that little bit of flair," he said. "We've been challenging the players in meetings, just motivating them in different ways, about bringing a bit of flair, that thing that the crowd gets off their seats for."
Canada leads the way in Group A with four points, but hasn't been assured a spot in the next round.
Netherlands also has just one goal through two matches. The Dutch defeated New Zealand 1-0 in the opener before falling 1-0 to China. New Zealand faces China in Winnipeg, Manitoba, in the other Group A match.
A reporter asked Herdman — who he'd seen at a Starbucks earlier in the day — how he was so relaxed.
"Where would you rather be? You're in the biggest event that Canada's had in a long time in football, and you're with a great group of people," Herdman said. "We believe in what we're here to do and part of our philosophy is 'good mood equals good work and good work equals good mood,' so we keep operating on those principles."
RECAPPING SUNDAY: There weren't any matches Sunday as the World Cup took a day off. The last day of action came on Saturday, led by Colombia's stunner over France in Group F, which also saw England defeat Mexico 2-1. Brazil beat Spain 1-0 to clinch a spot in the knockout round, while South Korea and Costa Rica played to a 2-a draw in Group E.
UP NEXT: On Monday in Group B, Germany plays Thailand in Winnipeg before Ivory Coast plays Norway in Moncton. In Group A, China faces New Zealand in Winnipeg before the day's featured match between Canada and Netherlands in Montreal.
Like us on Facebook
Follow us on Twitter & Instagram