College basketball taking center stage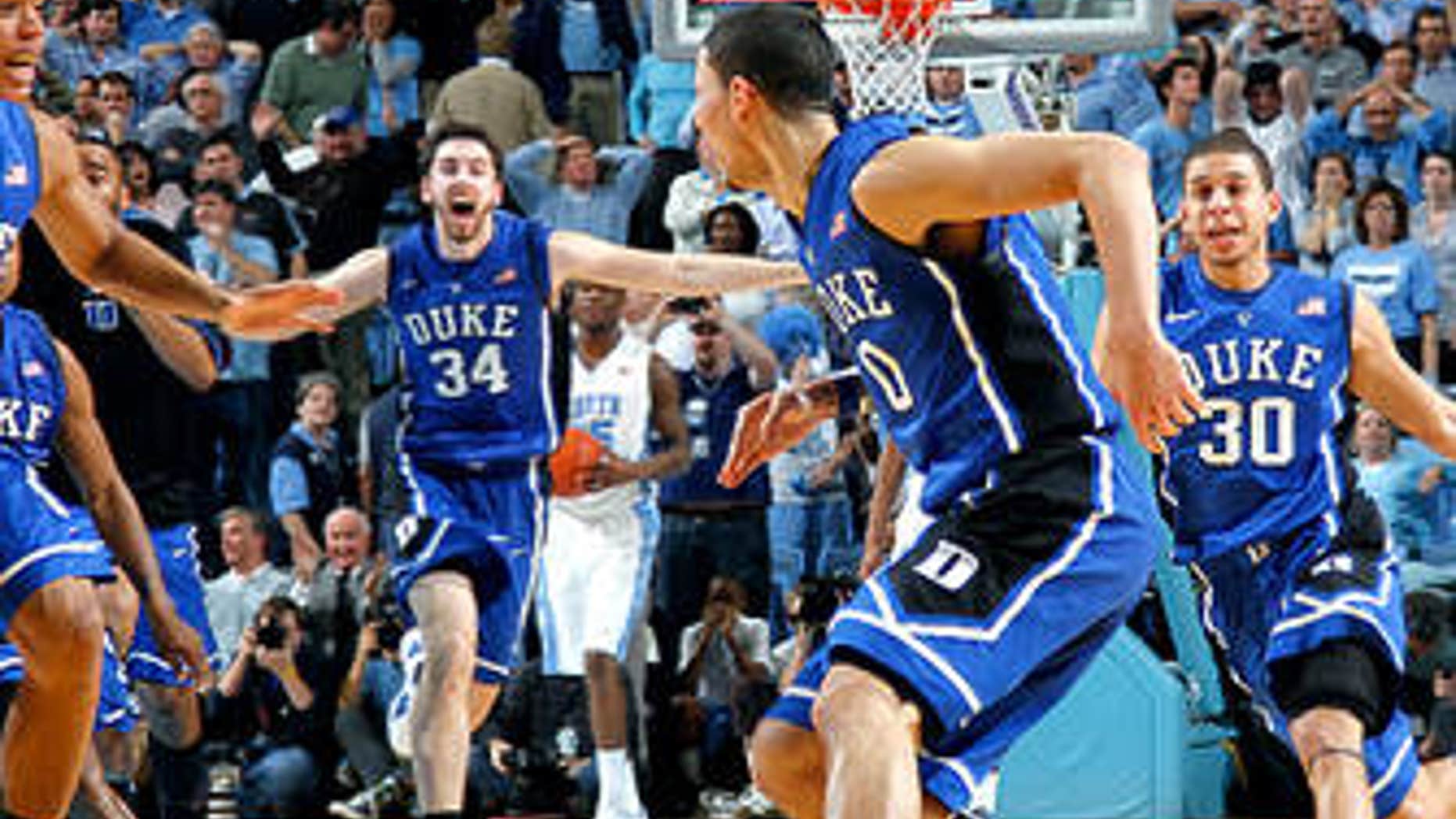 If you're like me, you plopped onto your couch on this frigid February evening, armed yourself with pizza, beer and the remote control, and pretended it was already March.
Because on Wednesday, it sure did feel like March Madness had come early.
No. 7 Kansas at No. 6 Baylor. No. 12 Georgetown at No. 2 Syracuse. And those two were only a preamble to one of the best rivalry games in sports: No. 10 Duke at No. 5 North Carolina.
If you weren't glued to the television Wednesday night, channel-flipping back and forth like it was tourney time, you can be forgiven. After two solid weeks of Super Bowl hype, you barely had a chance to catch your sporting breath before these three epic games reminded us the best times of college hoops are already here.
But we'll only forgive you once. So, take Wednesday night as a wakeup call. It's time to forget the endless analysis of Rob Gronkowski's high ankle sprain. You can bury all the mindless prattle about Gisele's overprotective nature toward her husband, Patriots quarterback Tom Bundchen. You can stop -- please, please stop -- the incessant debate about whether Eli Manning is a Hall of Famer.
Instead, just sit on your couch and watch what's shaping up to be a beautiful season unfolding on the college basketball court.
Here's what you might have missed so far: A young, loaded Kentucky team that looks close to unbeatable. A resilient Syracuse team that's stayed focused amid sex abuse allegations against a longtime assistant coach. A UNLV team that upset top-ranked North Carolina in November and is nationally relevant for the first time since the Jerry Tarkanian years. A defending champion UConn team and a highly regarded Pittsburgh team that have both fallen off the face of the earth. And a whole slew of impressive runs by teams that haven't been ranked this high in a good while, if ever: No. 4 Missouri, No. 16 St. Mary's, No. 17 Creighton, and the only undefeated team in Division 1 college hoops, No. 9 Murray State.
In Syracuse, college basketball fans had been planning for this day, Super Bowl be damned. Fans had been camping out since Friday night to witness the waning of one of the great rivalries in college basketball. This rivalry won't last forever -- with Syracuse's impending move from the Big East to the Atlantic Coast Conference -- but we all wanted Wednesday's game to last forever. Led by a hot-handed Kris Joseph's clutch shooting and career-high 29 points and Fab Melo's six blocks, Syracuse dropped Georgetown 64-61 in an overtime thriller after a back-and-forth regulation in which Hoyas guard Jason Clark hit two clutch threes late to keep them in it.
But more impressive than the win itself was what it meant to Syracuse coach Jim Boeheim. In the face of this trying season, Boeheim got his 880th career win, passing North Carolina legend Dean Smith for the most wins by a coach at a single school.
At the same time in Waco, Texas, the Kansas Jayhawks were looking to further one of the more impressive streaks in college sports against the upstart Baylor Bears. KU has gone five full seasons -- 227 games -- without losing two games in a row. But when prospective Player of the Year Thomas Robinson and his Jayhawks stepped onto the court Wednesday, they were simply seeking to right themselves after an emotional loss to rival Missouri the night before the Super Bowl.
And that they did, with center Jeff Withey dropping a career-high 25 points against the Bears, who ranked second nationally in RPI going into the game. The Jayhawks ran away with it in the second half, beating Baylor by 14 and leaving me thirsty for the Main Event, just now beginning at the Dean Smith Center in Chapel Hill.
There was no way Duke could keep up with the nation's top-ranked offense and win this Tobacco Road rivalry game, right? UNC was too dominant. Was too fast in transition. Had too many stars like Harrison Barnes, Tyler Zeller, John Henson. Boasted a 31-game home win streak, the longest in school history.
No way. Not a chance. Not as North Carolina maintained a roughly 10-point cushion throughout the second half. Not when UNC was still up 10 with a bit more than two minutes remaining.
But then -- because this is what happens in college basketball in March, and Wednesday was the beginning of March, calendar be damned -- Duke surged. A 3-pointer by Tyler Thornton, followed by a 3-pointer by Seth Curry. A wacky play by UNC's Zeller where he accidentally knocked the ball into the Duke hoop on a rebound attempt, bringing the Blue Devils to within one. A missed free throw by Zeller with 13 seconds left.
And then the sensational Duke freshman Austin Rivers dribbling down the court, passing his father, Doc Rivers, in the stands, and stepping back and nailing his sixth three of the game. Buzzer. Game over. Rivers, with 29 points, was mobbed by teammates, and the Dean Dome got as quiet as a graveyard, unable to believe Duke's 13-2 run to end the game, unable to fathom how the icy-veined Rivers had found this freshman swagger.
Wow. Just wow. A rivalry win for the ages, a Wednesday night to remind us we don't need March Madness to have epic college hoops games, and a subtle reminder that there are more of these games to come this weekend: No. 6 Baylor at No. 4 Mizzou, No. 11 Michigan State at No. 3 Ohio State, No. 13 San Diego State at No. 14 UNLV.
I lay on my couch, my belly aching from two slices too many of pizza and only one thought raced through my head:
It's only 31 days until Selection Sunday.
You can follow Reid Forgrave on Twitter @reidforgrave, become a fan on Facebook or email him at reidforgrave@gmail.com.