Colin Kaepernick's grievance against NFL can move forward, arbitrator decides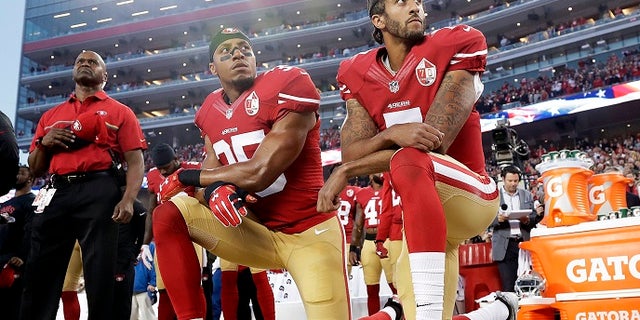 Former NFL quarterback Colin Kaepernick is getting a chance to take his grievances to court after an arbitrator denied the league's request to throw out his claim that team owners conspired to keep him out because of the national anthem protests.
Mark Geragos, Kaepernick's attorney, took to Twitter on Thursday to share a statement from arbitrator Stephen Burbank confirming the ruling.
AARON RODGERS REPORTEDLY NFL'S HIGHEST-PAIDPLAYER AFTER SIGNING EXTENSION WITH PACKERS
"On August 28, 2018 the System Arbitrator denied the NFL's request that he dismiss Colin Kaepernick's complaint alleging that his inability to secure a player contract since becoming free agent in March 2017 has been due to an agreement among team owners and the NFL," the statement read.
Kaepernick began a wave of protests by NFL players two seasons ago, kneeling during the anthem to protest police brutality and racial inequality. The protests have grown into one of the most polarizing issues in sports, with President Trump loudly urging the league to suspend or fire players who demonstrate in such a manner.
Kaepernick argues that the alleged agreement among team owners violated union rules
The Associated Press contributed to this report.