Cleveland Browns fans hold mock parade to protest winless season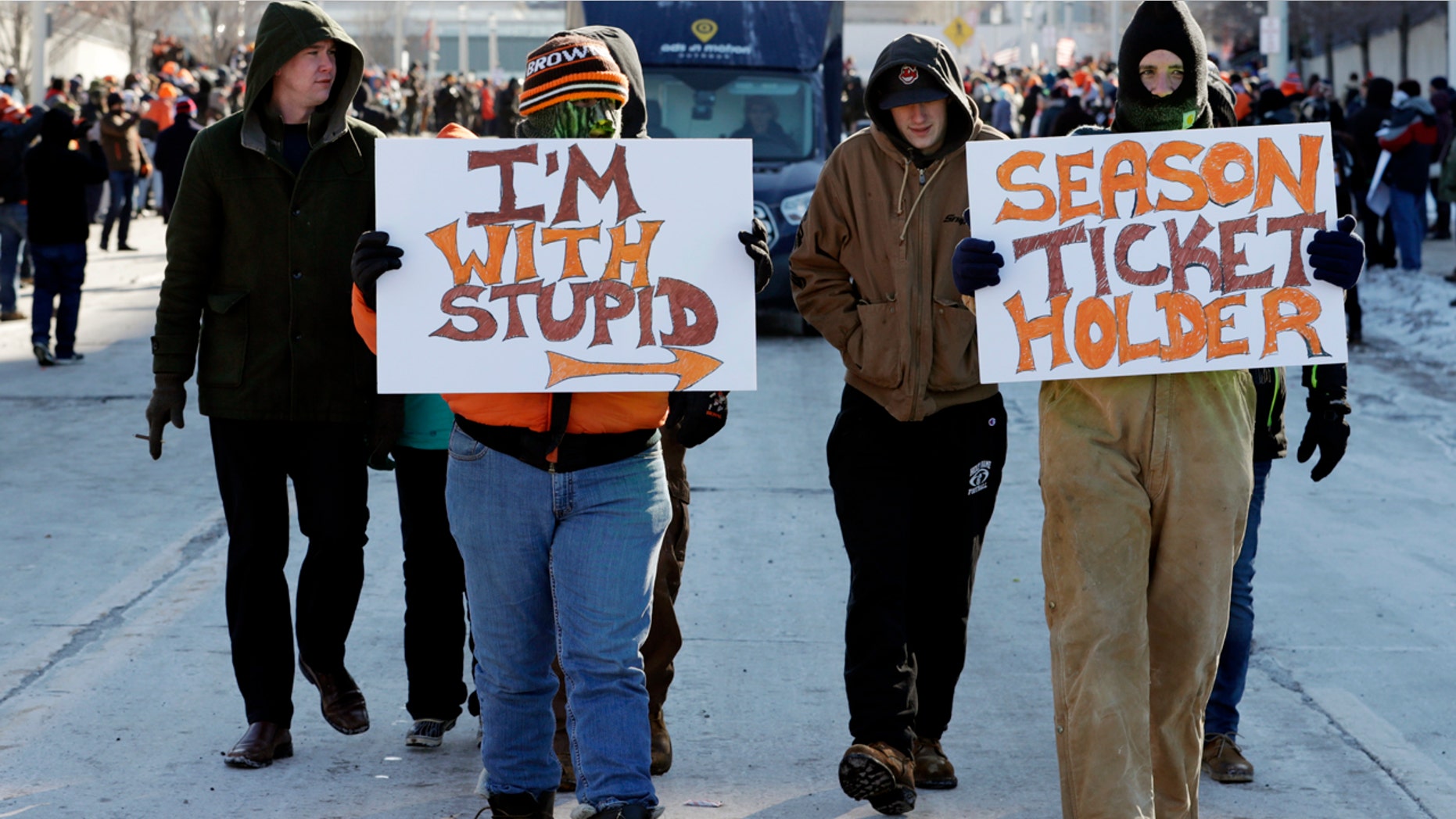 Cleveland Browns fans have not celebrated an NFL championship since 1964. On Saturday, six days after their team concluded the second 0-16 season in pro football history, thousands of them held a mock parade to mark a new low for a franchise that has had plenty of them.
At a gathering that was half-protest, half-party, supporters lined the streets around FirstEnergy Stadium and cheered as 80 vehicles, a rock band on a flatbed truck and a group carrying 28 tombstones to represent the team's 28 starting quarterbacks since the team resumed play in 1999, took a "no victory" lap.
"We don't deserve this. We deserve better people in the front office. We deserve better people coaching and we deserve better players," Patty Szylakowski, who grew up in a football-loving household with five brothers, told the Associated Press. "We're buying Browns gear every year. We support them every year no matter what ... Every fan in all the NFL cities should be thinking about this. If they got crap like we did, they would be doing the same thing."
Most of the anger was aimed at owners Jimmy and Dee Haslam, who purchased the Browns in 2012, but have been unable to produce the winner they've promised.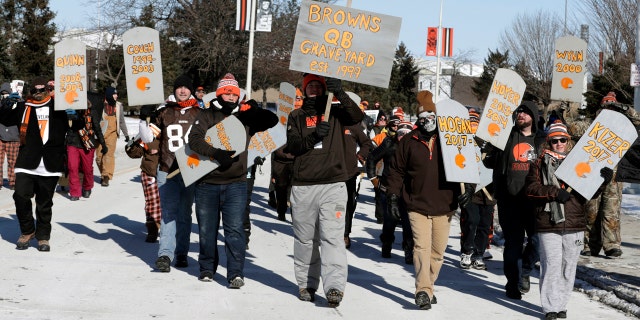 One fan held a sign that read: "Jimmy and Dee Go Jump in the Lake." Another carried by a fan dressed as a bishop said: "Deliver us from Jimmy and Dee."
The genesis of Saturday's event came during the 2016 season, when the Browns finished 1-15. With the NBA's Cavaliers winning their first championship and MLB's Indians reaching the World Series in the same year, McNeil sarcastically tweeted: "This Browns team deserves a parade."
Unexpectedly, many of McNeil's fellow disgruntled fans jumped on board with the idea and began raising money. McNeil canceled that year's planned parade after the Browns won their only game of the season on Christmas Eve and donated the proceeds to the Cleveland Food Bank.
This fall, as the Browns lost and lost again, McNeil's accidental idea was resurrected. This time, the team didn't spoil the party and capped off their winless season with a 28-24 New Year's Eve loss to the Pittsburgh Steelers -- who played backups at several key positions.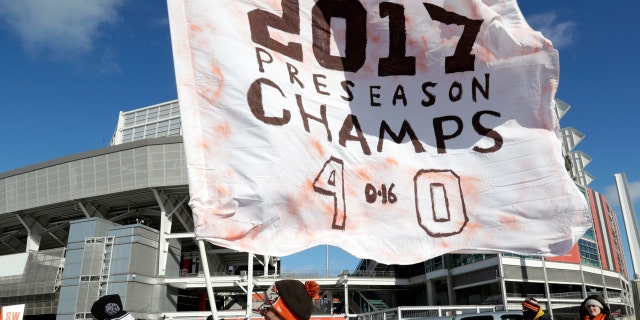 Not every Browns fan was fond of the imperfect season parade idea. John Rivera turned out to protest, not participate.
"I think it's very embarrassing for Cleveland to go 0-16 and I think this parade is embarrassing," he told Fox 8.
McNeil disagreed.
"I don't think anybody's looking at this thing and going, 'look at these idiot Clevelanders who are celebrating 0-16,'" he told the AP. "I don't think that's the message. This is a clear message to those people (the Haslams) inside the building. That's who we were looking for."
Cleveland police conservatively estimated the crowd at 3,200, and reported no major incidents or arrests. McNeil said nearly $15,000 raised for the event would be donated to the Cleveland Food Bank.
The Associated Press contributed to this report.