Clemson WR Mike Williams carted off field after collision with goal post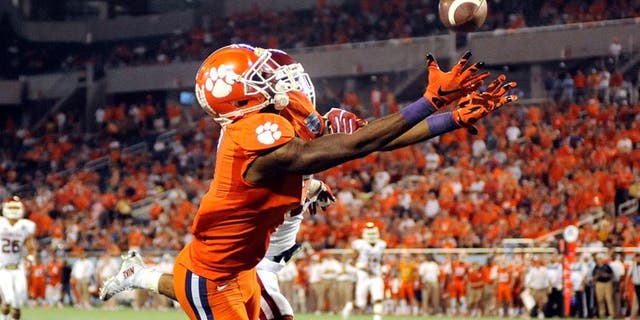 NEWYou can now listen to Fox News articles!
Clemson junior Mike Williams, the team's top returning receiver, sustained a serious injury on the Tigers' first offensive drive of the 2015 season when he collided with the padding around the goal post.
Williams was placed on a stretcher and carted off the field following the injury and transported to Oconee Hospital in Seneca, S.C., to be treated for a neck injury. He was able to move his extremeties, according to the school.
An official diagnosis is expected to be released following Clemson's game against Wofford.
The 6-foot-4 standout's upper body hit the padding awkwardly as he extended for quarterback Deshaun Watson's pass in the back of the end zone on the opening drive. Trainers attended to Williams for more than 10 minutes as officials reviewed the play -- Williams was initially ruled out of bounds -- and eventually a medical cart was called. Williams was able to raise his arm in acknowledgement as he left the field.
Williams, a 1,030-yard receiver as a sophomore, is a prominent member of the 12th-ranked Tigers offense.