Claudia Gadelha officially next in line to face champion Joanna Jedrzejczyk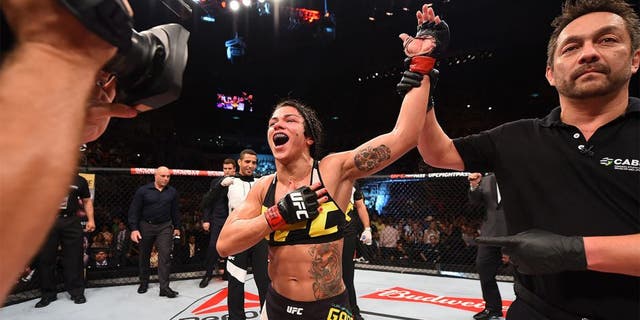 When Claudia Gadelha stepped into the Octagon on Saturday night at UFC 190 she had only one purpose and that was beating hyped newcomer Jessica Aguilar.
There was always a secondary reason looming overhead because a win would secure Gadelha a title shot in the women's strawweight division and a much desired rematch with champion Joanna Jedrzejczyk.
Now Gadelha will officially receive her chance to avenge the only loss of her career.
"Yes (she gets the next title shot)," UFC president Dana White confirmed following the end of UFC 190. "(Gadelha) looked amazing tonight against a very well respected opponent.
"She looked amazing."
Gadelha fell to Jedrzejczyk in late 2014 by split decision in a fight many believe could have gone either way on the judges' scorecards.
Gadelha got dropped early in the contest, but fought back and could have stolen the fight in the final two rounds. Ultimately, the judges saw the fight in favor of Jedrzejczyk, who then went on to win the UFC women's strawweight title.
Now the Polish champion will defend her title for a second time while facing Gadelha in a rematch for the next title fight at 115 pounds.
Most recently, Jedrzejczyk dispatched Jessica Penne by TKO in June. Following the fight, Jedrzejczyk had surgery on an injured thumb so right now there's no word on when her title bout rematch with Gadelha will take place but that will be the fight when she's ready to return.