Chris Johnson is hoping to be back with Cardinals in 2016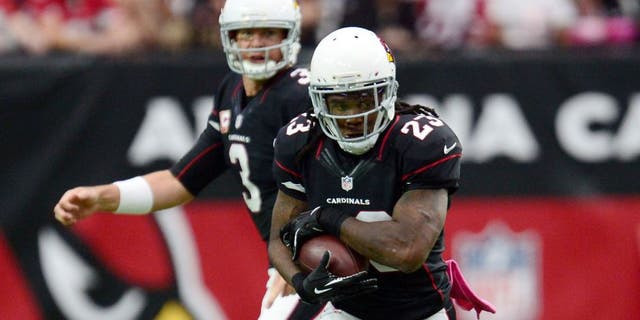 Chris Johnson hopes to re-sign with the Arizona Cardinals, and it appears the feeling is mutual.
Johnson said Tuesday night that he has spoken with head coach Bruce Arians and running backs coach Stump Mitchell about returning.
"They want me back and I want to be back, but you know how the business side is," Johnson told co-host Gil Brandt and me on SiriusXM NFL Radio on Tuesday. "Everything has got to be right for both parties but I can't wait for both sides to get started (talking)."
Johnson admits he has an affinity for the Cardinals because Arizona was the only franchise that expressed interest in signing him as a free agent before the 2015 preseason. Johnson was coming off a disappointing 2014 season in New York that made teams question whether he was slowing down in his late 20s. He also was recovering from a shoulder injury after being wounded in a drive-by shooting in Orlando that left one of his friends dead.
Johnson rebounded to rush for 814 yards and three touchdowns through the first 11 games before suffering what proved a season-ending knee injury.
"Going through that offseason was real tough," Johnson said. "A lot of people gave up on me ... That's why I have nothing but respect for the whole Arizona organization giving me the opportunity to show I could still play.
"The season didn't end how I wanted it to end as far as me being hurt and us not being able to go to the Super Bowl and those things. But I did show I still have a whole lot left in me and years left to play."
As for what will determine his ultimate decision about where to play this season, Johnson said finances wouldn't be the main factor. Johnson played under a one-year, $870,000 deal -- which could have been worth $2 million had he rushed for 1,300 yards and was named to the Pro Bowl -- with the Cardinals in 2015.
"I feel like at this point in my career I am not really chasing the money," said Johnson, who signed a four-year, $54 million contract extension with the Tennessee Titans in 2011. "I can't say I ever really chased the money, but when you're a young guy in this league, you want to take care of your family and get the highest deal possible.
"I still want to get the best deal, but at the same time, I want to be somewhere where we have a chance to win. I feel like Arizona is the best place for me right now."
If he were to re-sign, Johnson would form a potentially dynamic one-two rushing punch with David Johnson, who accounted for 13 overall touchdowns during his rookie season.