Chile Pins Olympic Medal Hopes On Teenage Freeskier Dominique Ohaco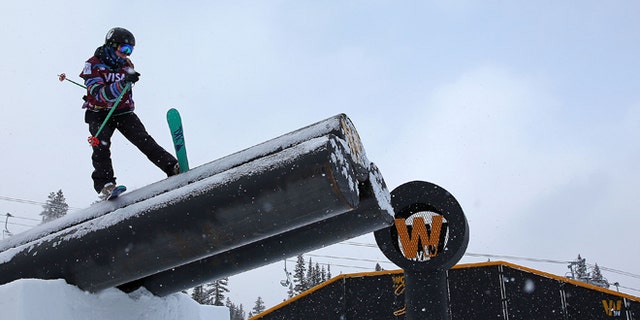 When athletes from around the world march this week into Fisht Olympic Stadium in Sochi, Russia, the Chilean flag-bearer will be an 18-year female skier seen as one of the South American nation's best hopes to bring home a medal.
Known for her high-flying antics over jumps and smooth grinds on rails, Dominique Ohaco is one of the world's best freestyle skiers and almost certain to become one of the faces of the sport as it enters its first year of Olympic competition in Sochi.
"It is an honor to carry the flag of Chile in Sochi and is very happy that I have chosen me to be the bearer," Ohaco told Chilean media last month.
Differing from winter Olympic stalwarts like downhill and slalom, freeskiing has risen in popularity around the globe over the last decade thanks to the explosion in popularity of so-called actions sports, advancements in ski technology that allow skiers to ride backward and the drive by many athletes to push the limits of what thought possible on a set of "planks."
A combination of moves learned from back country skiing with influence of street skateboarding and inline skating, freeskiing is one of the recent additions to the Olympic roster meant to appeal to the younger, "X-Games" generation.
At 18, Ohaco fits right in for that demographic.
Competing professionally for the last two years, Ohaco – who began her freesking odyssey at 13 – has racked up impressive performances on the Freestyle Ski World Cup and the SFP Freestyle Tour. She's currently ranked third in the world in the slopestyle event.
Slopestyle competitions basically take place on snowy, downhill skateparks complete with ramps, sets of stairs and rails that competitors huck themselves over onto in an attempt to get the best score from the judges.
With moves like a reverse 540 and technical grinds, Ohaco has become one of the darlings of the sport and Chile's main chance to upset favorites like American Maddie Bowman, Canadians Dara Howell and X-Games gold medalist Kaya Turski.
Her time on the world tour and her years of practice Chile's famed Valle Nevado (Snowy Valley) ski resort have prepared her for the games and given Chilean coaches hope that Ohaco can bring home Chile's first ever medal in the winter Olympics.
"Dominique is among the best in the world and could be a candidate for a medal, because her scores are not so far from achieving such a goal," Luís Alberto Santa Cruz, director of the Olympic Committee of Chile and former vice president of the Federation of Skiing, told Chilean newspaper Le Tercera.
Along with Ohaco, Chile will send five other athletes to compete in Sochi. Henrik Von Appen, Eugenio Clear and Noelle Barahona will compete in alpine skiing, Jonathan Fernandez in cross country and Stephanie Joffroy in ski cross.
Follow us on twitter.com/foxnewslatino
Like us at facebook.com/foxnewslatino