Chile hands Mexico worst defeat on road to Copa America semi-finals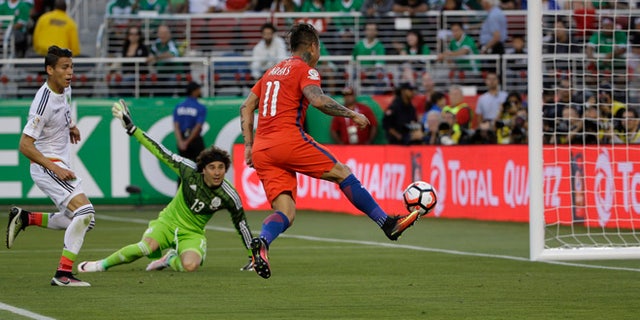 SANTA CLARA, Calif. (AP) – Eduardo Vargas leapt in the air and pumped his right fist in triumph as his shaggy hair swayed in the Bay Area breeze, only further demoralizing Mexico on the worst night in El Tri's storied soccer history.
So much for Chile to celebrate as Vargas scored a career-high four goals, Edson Puch added two, and the defending champions thoroughly dismantled Mexico from every angle in a 7-0 Copa America quarterfinal trouncing Saturday night.
"Everyone knows that we are the champions and today we showed it," said Vargas, dedicating his performance to his family.
Thousands of Mexico's frustrated fanaticos already were long gone by the time El Tri's worst defeat in a competitive match finally ended, right along with its team-record unbeaten streak in embarrassing fashion at 22 matches. It occurred one day shy of a year since Mexico's previous loss, to Ecuador in the Copa group stage.
"First, I'd like to offer my most heartfelt apologies to the Mexican fans," Mexico coach Juan Carlos Osorio said. "Today was a shameful presentation, an accident that happens in soccer. Obviously, there are bigger tragedies, but speaking in terms of sports, today was a very, very poor showing on our part. I repeat my apologies to all the people and fans."
Mexico's fans still regularly used their traditional homophobic chant, even after being urged to stop by tournament organizers, national sport officials and players, especially in the wake of the recent Orlando shooting.
After Vargas found the net for the final time on this extraordinary display of shot-making, the star forward was celebrated yet again by a team that left no question it has plans to follow up the country's first Copa win last year with another special run.
Alexis Sanchez had a goal and two assists, and Puch scored the bookends for Chile — starting things off in the 16th minute and punctuating this dominant night with an 88th-minute score.
Fifth-ranked Chile, the runner-up in Group D to No. 1 Argentina, matched its scoring total from the entire three-game group stage. La Roja advances to take on Colombia in the semifinals Wednesday night in Chicago, and coach Juan Antonio Pizzi guarded against getting too high from this stunning result.
There's a quick turnaround.
"First of all, with much happiness, I don't think it's easy to be the coach of a team that has this kind of superiority on the pitch like we did today against an opponent of that quality," Pizzi said. "It's such a prestigious tournament so you might imagine the feelings we have of much happiness and at the same time caution. We are very conscientious of our work and know there are high points and low points."
A sold-out stadium of 70,547 that began the night with the atmosphere of a Mexico home game quickly emptied of El Tri green-clad supporters as the clock wound down.
Vargas scored the first goal of his big night in the 44th, five minutes after an offside call cost him another score, then added goals in the 52nd, 57th and 74th. El Tri's worst competitive loss had been 6-0 to Germany in the group stage of the 1978 World Cup, and Mexico was beaten 8-0 by England in a 1961 exhibition.
"I assume and accept all responsibility for this defeat," said Osorio, who said no when asked if he would step down though he plans to evaluate all of his decisions.
Chile's only other win against Mexico in the Copa America came 2-1 in 2011.
La Roja surely will be playing with some serious momentum after this one. What a statement of Chile's determination to follow up on last year's Copa win with a memorable finish in the 100th-year anniversary edition of the tournament.
Sanchez found Vargas in the 44th minute to send Chile into halftime with a nice cushion, then Sanchez scored in the 49th minute off a pass from Arturo Vidal.
Puch got things going in the 16th minute for Chile after capitalizing on a deflected shot by Marcelo Diaz off Mexico goalkeeper Guillermo Ochoa. After Puch controlled the rebound on Diaz's shot from 20 yards out, he had an open net with Ochoa still out of position and beat the goalie at the near post.
Sanchez's 34th goal for Chile tied him with Ivan Zamorano for second on the team's career scoring list behind Marcelo Salas with 37.
It was the largest crowd and scoring total for soccer at 2-year-old, $1.3 billion Levi's Stadium.
What began as a fiesta of Mexican fans outside, with makeshift concerts and countless cheers, turned into a forgettable night in a hurry with this result.
Group C winner Mexico is ranked 16th in the world and had topped an unbeaten stretch of 21 matches by the 2004-05 team coached by Argentinian Ricardo La Volpe.
Mexico already clinched a berth in the final round of World Cup qualifying, so its next game that matters is the start of the CONCACAF's hexagonal on Nov. 11.
Ashamed, players passed through the mixed zone offering apologies.
"The first thing we have to do is ask for the fans to forgive us," goalkeeper Guillermo Ochoa said.