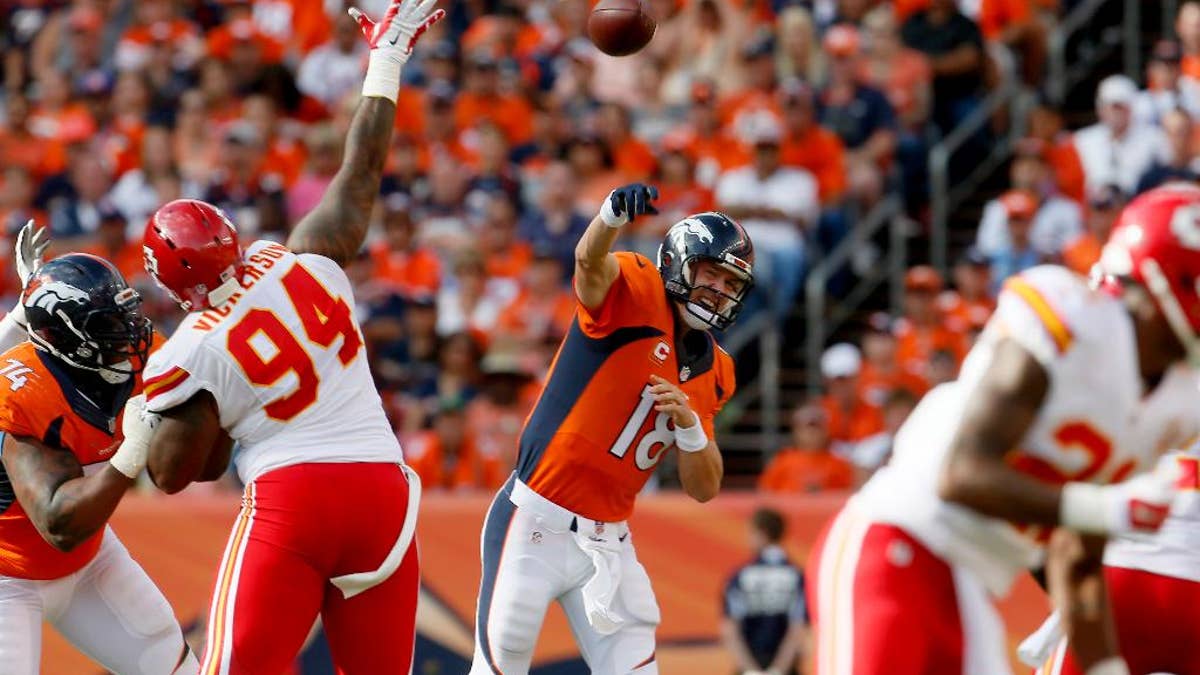 DENVER – The Denver Broncos have their issues on third down. Goal-line stands are another matter altogether.
For the second straight week, Denver's remodeled defense mustered a pair of goal line stands to fend off an opponent in a tight game.
Terrance Knighton deflected Alex Smith's fourth-and-goal pass to Dwayne Bowe from the 2 with 15 seconds left Sunday, preserving Denver's 24-17 win over the injury-riddled Kansas City Chiefs.
The Chiefs (0-2) also came up empty on a 19-play drive to start the second half that ate up 10 minutes and ended when Cairo Santos, who beat out veteran Ryan Succop in camp, was wide right on a 37-yard field-goal try.
The Chiefs converted 11 of 16 third downs and controlled the clock in the second half, keeping Peyton Manning on the sideline for all but 9:46.
"It's part of football," said Manning, who was 21 of 26 for 242 yards and three TDs with no interceptions. "I've been in games like that where you get excited on third-and-long, start warming up, ready to get out there. The defense out there, they were maybe bending a little, but not breaking."
As coach John Fox told his team afterward: "Never apologize for getting wins in this league, men."
The Broncos aren't pretty but they're perfect heading into next week's showdown in Seattle, where they'll face a Seahawks team that handed them a Super Bowl shellacking and then talked trash about them in the offseason.
Whenever things got tough during offseason training for the Broncos, players took to hollering, "35!" — their margin of defeat in that nightmare at the Meadowlands eight months ago.
The Seahawks lost 30-21 to the San Diego Chargers on Sunday.
"I'm so ready for this week," cornerback Chris Harris Jr. said. "I'm going to make sure everybody's on point and make sure that we don't kill ourselves and beat ourselves. Because if we're going to beat the Seattle Seahawks, we can't go down there with these mental mistakes and dumb penalties that we've been having."
Twice before Knighton's game-saver, the Broncos thought they'd turned back the Chiefs on their final drive.
Aqib Talib's interception return for a TD earlier in the drive was negated when Quanterus Smith jumped offside. And Nate Irving's fumble recovery following DeMarcus Ware's sack and strip was changed to an incomplete pass after a review.
Other takeaways from Denver's 12th win in its last 13 games against AFC West opponents:
TWO-WAY TERRANCE? Knighton is a nose tackle with a nose for the ball, and for good reason: he was tight end in high school.
"I have great ball instincts being an ex-wide receiver," Knighton said after deflecting Kansas City's last gasp by reaching up and deflecting Smith's pass with his right arm.
So, what would it take for Manning to have Knighton line up with him as a not-so-secret offensive weapon, like J.J. Watt did in Oakland on Sunday?
"Might have to send two guys out of the game to put Terrance in there," Manning deadpanned. "Believe it or not, I have thrown some passes to him in practice and he does have good hands. I will vouch for that. High school receiver, he says."
VICKERSON'S UNHAPPY HOMECOMING: Chiefs defensive tackle Kevin Vickerson had just one tackle in his return to Denver, dumping Montee Ball for a 2-yard loss in the first quarter.
"It was a little bit different. Just my familiarity with these guys helped me out a lot," Vickerson said. "But other than that, the game is the game. Football don't change, players do."
The ninth-year veteran was the final cut in Denver this season, beaten out by a younger, cheaper and healthier Mitch Unrein.
Vickerson signed a one-year deal with Kansas City last week after defensive tackle Mike DeVito got hurt.
"They made a business decision, I made a business decision," Vickerson said. "I get another shot at them. We're going to do a split. They got us this one, but we're going to get them next time."
The rematch is Nov. 30 at Arrowhead.
INJURY EPIDEMIC: After losing three starters to season-ending injuries in their opener, the Chiefs lost two key starters to ankle injuries.
They had hoped to get All-Pro running back Jamaal Charles more carries after he ran just seven times in the opener, but Charles left with an ankle injury in the first half, as did safety Eric Berry.
Charles had just two carries for 4 yards and one catch for 8.
Backup Knile Davis ran 22 times for 79 yards and two touchdowns, but the Chiefs sorely missed Charles on their two drives that stalled after getting inside Denver's 5-yard line.
"Everything is magnified down there," Smith said. "It hurts to have him out."
Notes: While Bowe returned from his one-game suspension and caught three passes for 40 yards, the Broncos were without WR Wes Welker again. His four-game suspension could be rescinded this week if the NFL signs off on the new drug policy that the NFLPA rubber-stamped on Friday.
___
AP NFL website: www.pro32.ap.org and www.twitter.com/AP_NFL
___
Follow AP Pro Football Writer Arnie Melendrez Stapleton on Twitter: http://twitter.com/arniestapleton