Chelsea's woes continue with loss to Porto; BATE Borisov stun Roma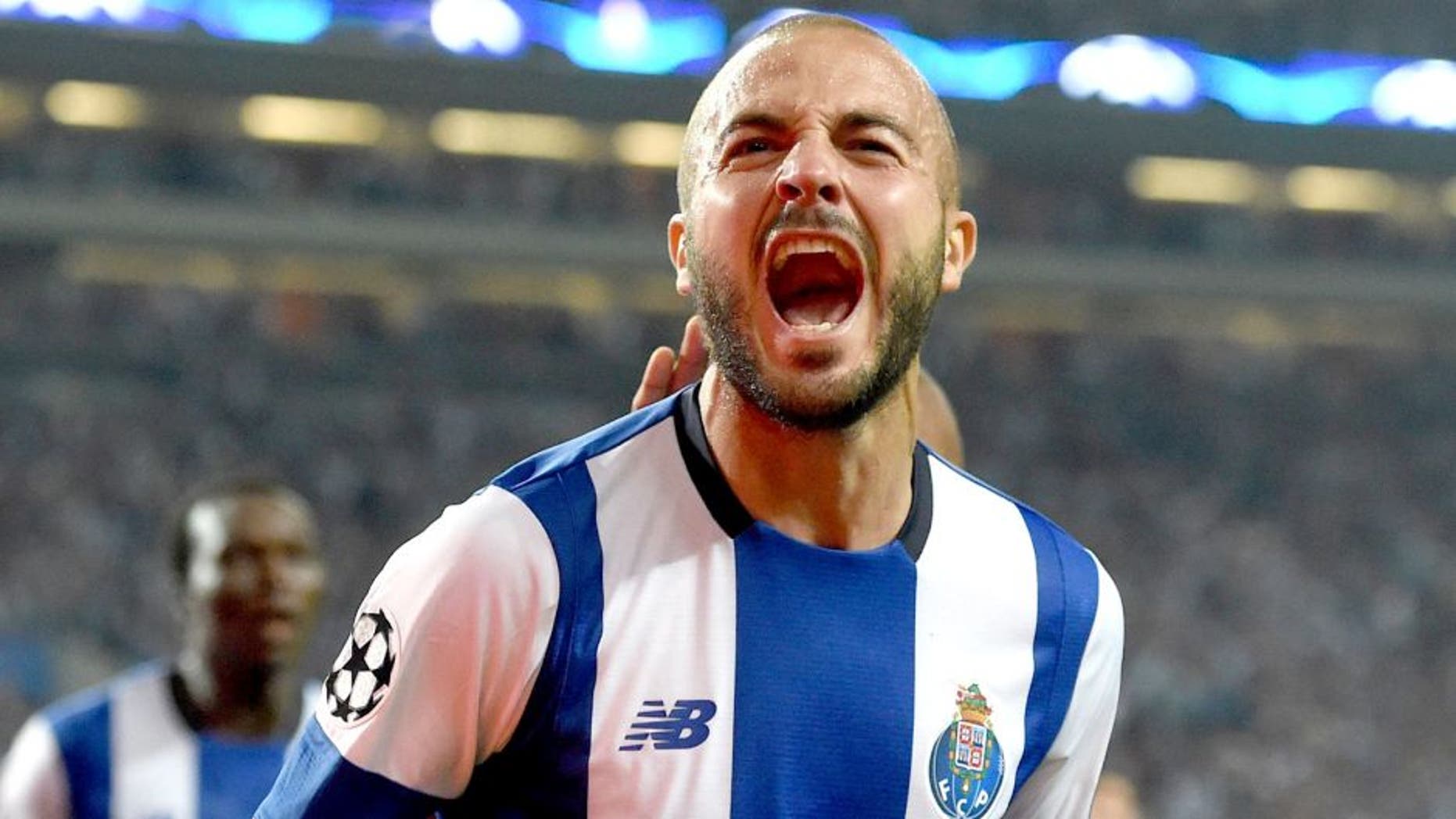 Jose Mourinho's return to Porto was not a happy one, with Chelsea at the Estadio Dragao falling 2-1 thanks to a goal from Maicon. It was yet another dreadful night for English teams in Europe, as Mourinho's bête noire, Arsene Wenger, also saw his Arsenal side collapse at home to Olympiakos. So far this year, an English side has won just a single match in the group stages, an ill omen for the Premier League on the continent.
Chelsea, who have been dismal in England to date this year, made several big changes to their lineup for this one. Nemanja Matic, dreadful against Newcastle on the weekend, was dropped with John Obi Mikel making a rare start. In something of a surprise, there was also no room for John Terry or Eden Hazard; Terry, who is said to be on the outs with manager Jose Mourinho, did not look happy on the bench. Even more bizarre was the sight of Bransilav Ivanovic -- who has been terrible in every start -- wearing the armband. It turned out that was a good thing in the end as it made him easy to identify whenever he made a dreadful gaffe.
"When the team is not winning on a regular basis it is normal that you have to make changes," a disappoinited Mourinho told reporters after the 2-1 loss. "After games like tonight it is difficult to analyze. We had chances after that to get a positive result and we had a clear penalty - so for me I am not here to criticise the players."
He added: "I am not going to point the finger but two mistakes cost us the game. The team played well against a difficult opponent. The Champions League brings a different atmosphere."
In the very early going, Chelsea looked the better. Yacine Brahimi had a very early chance but shortly after, Diego Costa and Pedro started to make their side shine. Iker Casillas was called upon in the 8th minute to stop a low shot from 22 yards from Cesc Fabregas that was cut back well by Costa. Seven minutes later, Costa and Willian did well to make space and feed Pedro, but his shot, right down the gut at Casillas, was batted away.
Asmir Begovic was not idle: a lazy corner kick was not completely cleared a quarter hour in, forcing him to clean up the mess with a punch out through traffic, but the most dangerous attack from Porto came in the 22nd when Vincent Aboubakar was sent on a ramble only to shoot high over the bar. Ivanovic seemed to leap in wildly on the play and Porto appealed for a penalty to no avail.
Slowly, Porto started to make their presence felt. Maxi Pereira was unlucky to see Gary Cahill block his drive away, starting a sustained rush of pressure that finally ended up with Begovic picking the ball out of the back of his net.
Then the breakthrough happened. Brahami fired in a great shot in the 39th minute after rounding Ivanovic that Begovic was forced to dive to his left and swat away, only to see the ball land at Andre's feet. He slammed it into the empty net, and suddenly, Chelsea were once again in deep trouble.
But Chelsea got back in the game on the final kick of the half. Ramires was too swift for Danilo Pereira, who conceded a foul just outside the area in stoppage. Willian lined up the free kick and belted it left to right, up and over the wall and past a rooted Casillas. The keeper could only shrug as the black-clad players celebrated their lifeline.
The tie would not last. With a downcast Mourinho looking on, Brahami first danced around a static Chelsea back line to win a corner in the 51st. Then, off the ensuing corner from Ruben Neves, Maicon beat Begovic at his own near post with a sublime flick. It was dreadful defending: Ramires was too easily beat and Chelsea were not covering that near post.
Costa tried for an immediate reply, with a rocket in the 54th minute that beat Casillas but came back off the crossbar. And that was it for Chelsea -- they had nothing left to offer. Too often, Chelsea's midfield and back line collapsed, allowing Porto to break the pressure and stream forward. Ramires was forced to clear a shot off the line just minutes later, with both Neves and Brahimi lining up.
Giannelli Imbula then forced a series of saves in the 71st minute with Chelsea's back line looking completely lost. Begovic stood on his head to parry away two shots and was very lucky to see a ball that came off Kurt Zouma's rear end fall kindly, allowing him to push it out for a corner. Danilo would then smack a header off the near post in the 81st off great service from Miguel Layun, but Begovic was able to react and clean up that mess as well.
Unfortunately, Begovic isn't able to clean up every mess at his club; for that matter neither is Mourinho. This Chelsea side is hardly out of Europe yet, and they have a big advantage in that their group is very weak. But on the evidence, they are not close to being a top-caliber side, and need a major rebuild in the back.
On another bad night for English sides in the Champions League, Eastern European teams romped to surprising results.
True, Bayern smashed five past a hapless Dinamo Zagreb side that had shocked Arsenal a fortnight ago. But BATE Borisov, who staked a 3-0 lead by the half hour, held on against Roma to record a famous 3-2 victory. It was the first win for the Belorussian side against Italian opposition and it was a thoroughly deserved win.
Igor Stasevich got BATE rolling in the 8th minute, putting home a goal served in by Mikhail Gordeychuk. Gordeychuk had been released out of the back and fired a shot off the crossbar that Wojciech Sczcezny could not collect, allowing Stasevich to slot home. Filip Mladenovic then doubled the advantage three minutes later with a swerving shot from 30 yards that caught the former Arsenal keeper by surprise. Mladenovic then got his second of the night on the half hour, collecting a long outlet from Maksim Vlodo and pinging his shot off the bar and over Sczczesny.
Roma tried to storm back in the second half, with Gervinho getting Roma on the board after fine work from Mohamed Salah and Iago Falque that Sergei Chernik could not stop. Vasilis Torosidis would then put Romas within a goal with ten to play, slotting a cross from Lucas Signe in from close range. But BATE held on from there to see out the match and collect a valuable three points in what is now a very tight Group E.
Dynamo Kiev had no problems in Tel Aviv, scoring early and late to see off Maccabi 2-0. Andriy Yarmolenko scored in the fourth minute then Junior Moraes netted in the 50th to conclude an easy day out in Israel.
And Zenit also had a good day at home, seeing off KK Gent 2-1 thanks to goals from Artem Dzyuba and Oleg Shatov, bracketing a goal from Gent's Thomas Matton. Hulk was the creator again for Zenit, first putting Rafinha on the floor to set up Dzyuba's opener, then setting up Shatov to lift the ball over Matt Sels in the net.
Elsewhere, Valencia also had an easy day, edging Lyon 1-0 on the road for a solid win in Group H. Sofiane Feghouli collected the winner in the 42nd then held firm against a second-half fight back by the Ligue 1 side to pick up their first win this season in Europe.