Chelsea star Hazard admits he is in the worst form of his life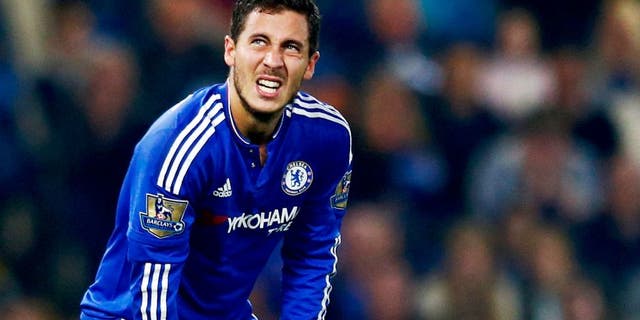 Eden Hazard has admitted he is currently in the "worst form of his life" as he struggles to lift Chelsea from the lower reaches of the Premier League.
The Belgium playmaker was named Footballer of the Year last season after inspiring the Blues to the Premier League title.
But this season, the Blues have endured their worst start to a campaign since 1978/79 -- when they were relegated from the old First Division -- and currently lie 16th in the Premier League table following last weekend's 3-1 home defeat to Southampton.
Several of Chelsea's star players have dipped below their best and Hazard admits he is currently in the worst slump of his career.
"This is the first time in my career that I have had such a difficult spell like this," he said.
"I can't really explain it. All I know is that I will need to work hard in order to bounce back. At Chelsea we have concerns both as a team and individually.
"We all thought that our recent win against Arsenal would give us lift-off -- but instead we fell straight back into our bad ways.
"I was left on the bench against Porto in the Champions League, and I am no longer immune to being left out. You can be untouchable when you play well, and that has not been the case with me.
"I think the manager wanted to send me a message by making me a sub. I don't read everything he says, but he explains everything."
Hazard is also backing the under-fire Mourinho to lead Chelsea out of their current malaise.
"I am not too worried for him -- Mourinho is the best coach in the world when it comes to dealing with pressure. I am an optimist, and I know I can learn a lot from tough spells," he added.
"I hope to come back stronger, and I am ready to play and do my best. I see my two games for Belgium this week as a launchpad for my season with Chelsea.
"I am looking forward to the Euro 2016 finals, but will only start thinking about them once the domestic season is over."