Chelsea midfielder Matic considers quitting international soccer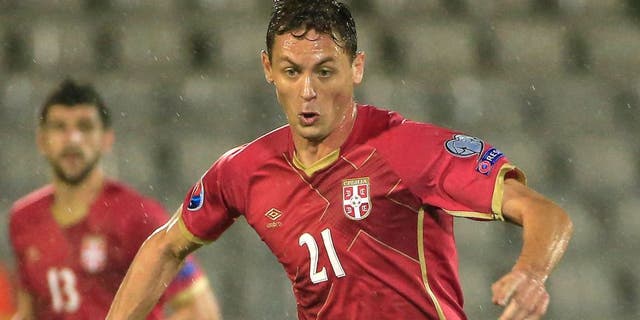 NEWYou can now listen to Fox News articles!
Chelsea midfielder Nemanja Matic says he is thinking of quitting international football after Serbia were thrashed 4-1 by the Czech Republic in a friendly in Ostrava on Friday night.
Serbia have not qualified for Euro 2016, after finishing fourth of the five teams in Group I, and have also missed out on the last two major tournaments, the 2014 World Cup and Euro 2012.
Matic told Serbian media on Saturday that the limp display in Ostrava may prove the final straw in terms of his international career for the time being.
"I always try to lead by example but some people don't want to see that," said the 27-year-old midfielder.
"The attitude of some players is unacceptable, not just on the pitch but off it too, and it was obvious from the moment we got together on Monday.
"I told our coach [Radovan Curcic] there is no point in me carrying on with the national team if things don't change.
"I'd really like to know whether some of my team-mates apply the same poor working ethic at their clubs as they do in the national team most of the time."
The national team's managing director Savo Milosevic, a former Aston Villa striker, agrees with Matic about the poor attitude of the players and thinks himself and Curcic may pay the price.
"Reading between the lines of Curcic's statements after the Czech game, one could see that he is on the brink of stepping down and I am in the same boat with him," said Milosevic.
"I have asked for support and patience for the players in the past eight months but their lack of commitment is quite simply indefensible."