Check out Blues rookie Fabbri with four goals in last five games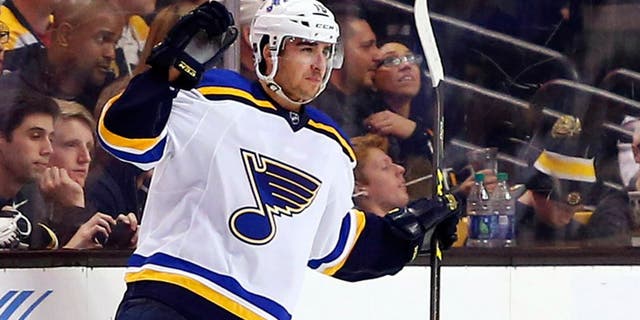 Generally strong defensive play and timely offense has the St. Louis Blues rolling toward the new year.
The Minnesota Wild appear to be returning to their elite form in their own end - which seems to point to a low-scoring affair in Thursday night's matchup at Scottrade Center.
St. Louis (23-12-4) defeated Nashville 4-3 in overtime Tuesday, winning for the sixth time in eight games on Alexander Steen's goal with under a minute remaining. The Blues, though, blew a two-goal lead when the Predators scored twice in a 2:20 span late in the third - the second goal coming with 1:32 remaining.
"It's hard to have to check all the time," coach Ken Hitchcock said. "Sometimes with our team when we get comfortable, that's when we get ourselves in trouble. We got comfortable."
Nashville outshot the Blues 33-18 in regulation, but St. Louis outshot the Predators 6-0 in OT.
"This team, when they get a lead, it's so hard to come back because they collapse and they block a lot of shots," Predators defenseman Shea Weber said.
St. Louis bounced back from Sunday's 3-0 loss to Central Division-leading Dallas, by far the highest-scoring team in the league.
Jake Allen didn't start that game and has gone 7-2-0 with a 1.76 goals-against average in his last nine starts after making 30 saves Tuesday. Allen, expected to be in net Thursday, has split a pair of starts against Minnesota this season. He won 3-2 in overtime in the most recent one Oct. 31, making 29 saves.
The Wild (19-10-6) gave up nine goals in back-to-back losses Dec. 19 and 21 - a season-high six against the Stars in the second of those - but have since won two of three, giving up one goal in each victory. Minnesota's 1.77 GAA since Dec. 1 is among the top marks in the league.
Its 2.40 GAA overall is among the top 10 in the NHL, close behind St. Louis' 2.36.
Top goalie Devan Dubnyk provided a spark Monday, starting in place of the injured Darcy Kuemper despite a cut on his arm and making 28 saves in a 3-1 home win over Detroit.
"It says a lot," captain Mikko Koivu told the team's official website. "The way you show that you have character is to step in, and even if you're not probably 100 percent, you want to be there. For the teammates that's a sign you want to see."
Dubnyk had allowed 10 goals in his previous three starts - all defeats. He's 3-8-1 with a 3.79 GAA in 12 career starts against St. Louis, taking the loss Oct. 31 but beating the Blues 3-2 at St. Paul on Oct. 10. He made 30 saves and gave up one goal in the third, when Minnesota was outshot 13-1.
The Wild are tied for the fewest road games this season with 15, but the schedule is about to start evening that out. Minnesota's four-game road trip opens a stretch in which it plays 12 of 17 away from home.
The Wild have gone 3-5-5 in their last 13 on the road, scoring two or fewer goals in the past six.
Steen, with two goals in his last three games, has recorded four goals and nine assists in his past 10 in this series.
Blues rookie center Robby Fabbri has scored four goals in his last five games.