Charlie Blackmon's 'abracadabra' slide completely jukes D-backs SS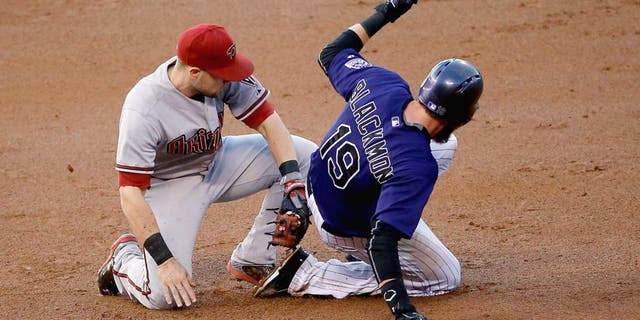 Charlie Blackmon knew he was hosed at second base while trying to steal on Diamondbacks catcher Wellington Castillo. So, he pulled a little trick out of his top hat.
In the first inning of the Rockies' 5-4 win over the Diamondbacks on Monday, Blackmon appeared as though he was sliding directly into the waiting tag of D-backs shortstop Chris Owings, but instead improvised and beat the tag.
How he did it was sheer spur-of-the-moment savvy.
Knowing that Owings would attempt to tag his lead foot, Blackmon pulled it back just as he approached the base, which left the shortstop with a swing full of air as he tried to swipe him out for what would have been a double play, considering that Jose Reyes struck out on the 3-2 pitch on which Blackmon stole.
The 29-year-old center fielder explained the maneuver to the Denver Post:
"I knew I was going to be dead out," he said. "So, I was like, 'I'll slide in there and get my foot out early and bank on him sweep-tagging me.' I tried to give him the abracadabra and pull my leg back. And it worked. I was very surprised."
Best of all, Blackmon says that his trick was entirely impromptu.
"No, I knew what was going to happen," Blackmon replied when asked if he had practiced the move. "He was going to catch the ball and tag me. It happened really fast. I thought it might work. And it did."
(h/t Denver Post)