Chargers stunned by Pittsburgh in front of pro-Steelers crowd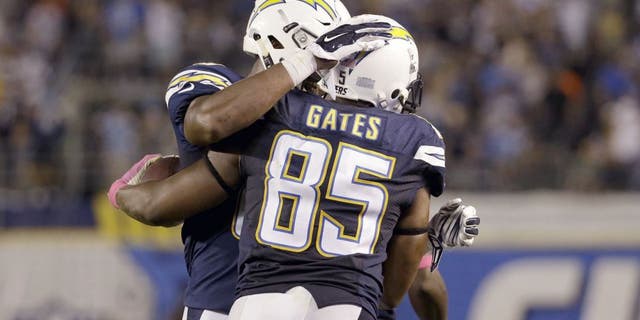 NEWYou can now listen to Fox News articles!
SAN DIEGO (AP) -- It was bad enough for the San Diego Chargers that their fans were outnumbered in their own stadium by Pittsburgh Steelers fans.
Then Mike Vick and Le'Veon Bell took over in the fourth quarter and the Chargers were dealt a stunning 24-20 loss Monday night.
"To beat the Pittsburgh Steelers you have to play 60 minutes and we played 58," Chargers safety Jimmy Wilson said.
Bell scored on a wildcat run as time expired to give the Steelers the victory.
Bell took the direct snap, ran left and was slowed in traffic before diving for the end zone and getting the ball across the line as Donald Butler dragged him down.
"They had been running the Wildcat before during the game," cornerback Brandon Flowers said. "Le'Veon is a good back and had but half a yard to get in. But we shouldn't have let them get the ball down the field."
Tens of thousands of Pittsburgh fans waving Terrible Towels roared as the Steelers improved to 3-2. San Diego dropped to 2-3.
"It was time to go to the mattresses, if you will," Steelers coach Mike Tomlin said. "We had to do what was required to win."
Bell said it was the most meaningful touchdown of his three-year career. "The game-winner on the last play of the game, that's what you dream about," he said.
Vick, having an awful game until the fourth quarter, kept the drive alive with a 24-yard scramble up the middle on third-and-6 from the 41 and then a 16-yard pass to Heath Miller to 1 a play before Bell's big run. An unnecessary roughness call against San Diego's Jahleel Addae moved the ball a half-yard closer to the end zone and stopped the clock.
"It's not how you start. It's how you finish," Vick said.
San Diego called a timeout before Pittsburgh ran the gutsy play.
Bell ran 21 times for 111 yards.
San Diego rookie Josh Lambo kicked a go-ahead, 54-yard field goal with 2: 56 left.
This could be the final year of the NFL in San Diego because owner Dean Spanos wants to move the Chargers to the Los Angeles area.
Fans of traditional powers such as the Steelers have always found a way to buy tickets to games in San Diego. Many Chargers fans scalp their tickets to big games to help recoup the costs of their season tickets.
"It was a tough environment tonight. It was like being on the road," quarterback Philip Rivers said. "Odd is one word we could use. We were in silent count and we had no chance. We were checking in and out of plays and it was about as tough as it gets. I'm usually hoarse after road games and I'm going to be today as well.
"Our fans that were here did they best. We had the Steelers fans quieted for some of the time. It was unique to say the least."
Vick, making his second straight start in place of injured Ben Roethlisberger, couldn't get much going until he and Markus Wheaton hooked up on a 72-yard touchdown on a stop-and-go route to tie it at 17 with 7:42 left.
The Chargers then moved down the field for Lambo's kick. Eight days earlier, the rookie kicked a 34-yarder as time expired for a 30-27 win over Cleveland. Lambo also was short and left on a 60-yard attempt just before halftime against the Steelers.
Antonio Gates returned from a four-game PED suspension and caught a 12-yard scoring pass from Rivers in the first quarter and then had an 11-yard grab with 8:02 left to give the Chargers a 17-10 lead. Gates has 101 career TDs, joining Tony Gonzalez (111) as the only tight ends to reach that milestone.
Rivers has thrown 74 touchdown passes to Gates, the most from a QB to a tight end in NFL history.
Gates was suspended without pay for testing positive for a performance-enhancing drug in the offseason.
Rivers didn't waste any time going to Gates on San Diego's first possession, completing passes of 10 and 12 yards to the tight end. A 31-yard completion to Danny Woodhead and a 15-yard facemask penalty on the Steelers moved the ball to the 16. Two plays later, Rivers hit the wide-open Gates for a 12-yard TD.
Antwon Blake intercepted Rivers' pass and returned it 70 yards for a touchdown to give the Steelers a 10-7 lead late in the third quarter. Receiver Malcom Floyd broke off a crossing route that led to the pickoff.
It was Rivers' third pick-six of the season. He has turnovers in 10 of his last 11 games.
San Diego came right back and tied it on Lambo's 40-yard field goal.
Rivers was 35 of 48 for 365 yards.