Championship 4 team execs expect aggressive, winner-take-all race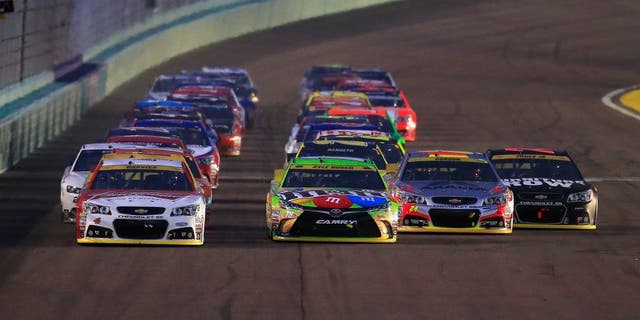 What's it going to take to become the 2016 NASCAR Sprint Cup Series champion? Speed, aggression and, most of all, no big mistakes.
That's the collective wisdom of executives from Joe Gibbs Racing, Hendrick Motorsports and Team Penske, the three teams left in the championship.
Sunday at Homestead-Miami Speedway, the Sprint Cup champion will be crowned: Whoever has the best finish among JGR's Kyle Busch and Carl Edwards, Jimmie Johnson of Hendrick Motorsports and Team Penske's Joey Logano will claim the title.
It ought to be a fantastic battle.
And the competition should be fierce.
"When you get down to the four guys, winner-take-all format, you have to be aggressive," said JGR senior vice president Jimmy Makar, who won a championship as Bobby Labonte's crew chief in 2000.
"I don't think you're going to be able to sit back and ride, as it may be, to deserve points or something of that nature," Makar said. "I think we've watched these championships lately come down to you've got to go win the race."
Travis Geisler, the NASCAR competition director for Team Penske, agreed with Makar.
"Whenever you put the championship on the line with guys of that caliber, they're going to be pretty darned aggressive," said Geisler. "I think all of them will find a way to be ultra aggressive at that point."
Throughout the Chase for the NASCAR Sprint Cup, drivers and crews have made countless mistakes on pit road -- exceeding the pit road speed limit, crewmen going over the wall too and, in the last race, passing the pace when pitting.
A mistake like that on Sunday could be ruinous.
"I think the first thing is the team that has the fewest mistakes is going to set themselves up to be successful," said Hendrick Motorsports general manager Doug Duchardt.
"As competitive as these races are, a speeding penalty or a bad restart or a cut tire, anything of that nature can be difficult to overcome, not that it's impossible," said Duchardt. "… Minimizing your mistakes is going to be key, and then obviously it's just having a fast car and optimizing it through the race."
Late Sunday afternoon, one of the four drivers and his team will step up and win the title.