Championship 4 presents historic opportunity for each driver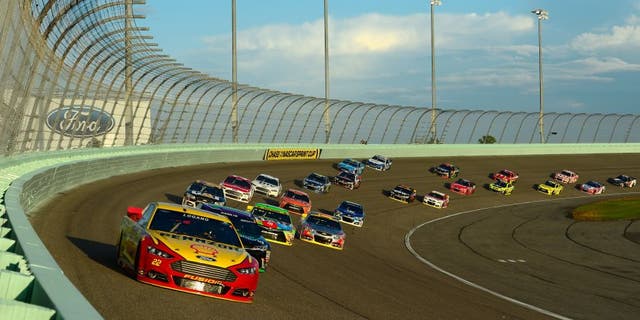 It's been a long grueling season and now the final race at Homestead is upon us.
Joey Logano won the race at Phoenix so he joins Jimmie Johnson and Carl Edwards in the group of drivers who won races in the Round of 8 to advance. Kyle Busch rounds out the championship bracket of four as he made it in on points.
If you look deeper into it, all four drivers really have a lot they want to prove.
Jimmie Johnson is on the precipice of rewriting NASCAR history again. If he is able to come out on top Sunday, he becomes only the third driver in NASCAR history to win seven championships, tying Richard Petty and the late Dale Earnhardt.
With today's competition and the way the rules are, I honestly never thought we'd see anyone be able to join Richard and Dale Sr., but Jimmie has a shot and that's all he's every asked for.
Then you have Carl Edwards. This is a man who in 2011 tied for the NASCAR Sprint Cup championship in points with Tony Stewart but then lost out to Tony as Tony had more wins on the season than Carl.
Since 2011 Carl has obviously changed teams and changed manufacturers but he has a great shot of winning his first-ever championship. A lot of folks counted Carl out, but with his win in the third round, here he sits eyeing the ultimate NASCAR prize.
For Joey Logano this has to be a feeling of redemption for him. A lot of people felt he was the odds-on favorite to win the championship last year. Unfortunately, it has been well documented the problems he had with Matt Kenseth, which eventually led to Matt deliberately wrecking Joey at Martinsville and literally wrecking Joey's chance at a 2015 championship.
It is so obvious to me what Joey has learned from what happened last year and how he's matured. So, he certainly wants to seal the deal with his first championship.
Remember, his teammate Brad Keselowski already has one and now Joey wants to give car owner Roger Penske another NASCAR Sprint Cup championship.
For Kyle Busch, he is trying to win this year for various reasons. Naturally, as our defending champion, he would like to repeat. He'd also like to give Toyota their second championship in the Sprint Cup series.
In addition to that, Kyle faced a lot of criticism from some fans last year because he won the championship but didn't run all the races. You are all very familiar with the fact he was injured at Daytona in February, came back in May with an exemption from NASCAR that if he met two stipulations, then he could qualify for the Chase.
He met both criteria, made the Chase and then won the championship. Now here Kyle is again vying for the championship having run all the races, so I know winning it again would mean a lot to Kyle.
Going back to Sunday at Phoenix, how can you not be impressed by that young man Alex Bowman? He's been helping fill in for Dale Earnhardt Jr. in the No. 88 Hendrick Motorsports Chevrolet -- and last Sunday he showed everyone why he was in the seat.
Not only did Bowman win the pole but he dominated the race leading 194 of the 324 laps. When I say dominating, I'm not kidding as the closest one to him in laps led was Matt Kenseth at 55 laps. Bowman ended up sixth after getting shuffled back a bit toward the end of the race, and then being involved in an incident with Kenseth.
Speaking of Matt, I felt so bad for him. He came so close to making the final four only to end up backing his No. 20 into the fence after contact with the No. 88 and finishing 21st. Matt's hopes for a second NASCAR Sprint Cup championship will have to wait another year.
I don't blame Alex for what happened. He was racing hard for the win, he was underneath Matt and unfortunately Matt's spotter told him he was clear. When Matt moved down, he made contact with the No. 88 then slid up the track and backed his No. 20 Toyota into the wall.
That chain of events let Joey Logano take over the lead and then held on for the win in the ensuing restart. The win guaranteed Joey a championship spot plus ironically with Kyle Busch finishing second, he locked up the fourth and final spot based on points.
So the final four is set.
These are four guys with a lot at stake, with a lot to prove not only to themselves but to others. We have four very different storylines all that are going to merge on Sunday and make for what I think is going to be a very compelling and drama-filled race.