Chad Knaus declines to reveal which car Jimmie Johnson will run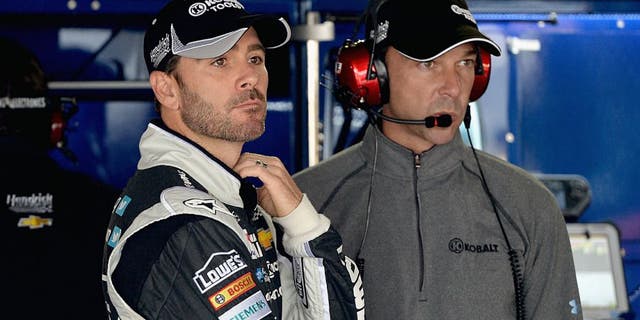 Every top NASCAR Sprint Cup team has a fleet of cars at their disposal for each of its drivers. And which specific car to field this weekend in the championship race at Homestead-Miami Speedway is a key strategic decision for each of the four crew chiefs.
It's a complicated one, too: Not only do crew chiefs have their own cars to choose from, they can borrow a particularly good car from a teammate if they so desire.
Dave Rogers, the crew chief for Carl Edwards, said that the primary cars for Edwards and his Joe Gibbs Racing teammate Kyle Busch, will both be brand new at Homestead.
"We feel like every time we build a car, we just polish on it a little bit more, and every car is a little bit better than the last," said Rogers. "We had a strong race car at Texas. That's going to be our backup car."
Joey Logano's crew chief Todd Gordon said Logano will run Team Penske chassis No. 848, which he said has won a couple of races but was used as a tire-test car on the Watkins Glen road course.
"It's not designated to being just an intermediate car," said Gordon. "Good car, new body, new body spec. I really look forward to what we can do with it."
Meanwhile, Jimmie Johnson's crew chief, Chad Knaus, is playing his cards close to the vest.
Asked on a national teleconference which car the No. 48 will race at Homestead, Knaus said, "We've got two great race cars we're bringing this weekend. It was a tough battle trying to figure out which one we wanted to bring, but we brought one that we feel very confident in. It's got a good race history, and I think it's going to be a good race car."
Pressed for specifics on the race history of the team's primary car for this weekend, Knaus said, "It's a good car."
Let the games begin.