CEO Larry Baer thinks Giants aligned to be contenders in 2016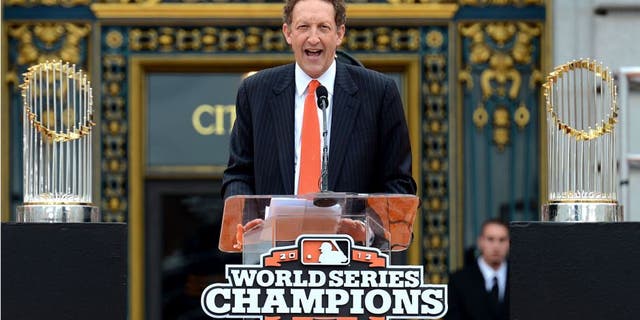 NEWYou can now listen to Fox News articles!
While their hopes of defending their World Series title have been squandered, the San Francisco Giants are optimistic about what the immediate future holds for them, and are hopeful they might be in the World Series mix once again in 2016.
Finishing with an 84-78 record, the Giants were surpassed for the NL West title this season, as the Dodgers have claimed the division for the third straight year.
Although the Giants managed to win a World Series on a wildcard berth last season, they missed out on securing a bid through that route as well this year, which leaves them with a long offseason ahead.
Despite a disappointing culmination to the 2015 season, the Giants won't be sulking in the offseason, as they are eager to return a healthy roster, complemented by a new wave of young talent, to the field next season.
"The maturity and intensity of these rookies are a reflection of the scouts, coaches and minor-league development staff who also delivered homegrown stars Buster Posey, Joe Panik, Brandon Crawford and Brandon Belt - who with [third baseman Matt] Duffy make up the best infield in baseball," Giants president and CEO Larry Baer writes in a letter to fans published by the San Jose Mercury News. "Talk about the future: All five will still be under 30 years old next season, as will Madison Bumgarner."
Baer praises the resiliency the Giants showed in 2015 in the midst of an injury-plagued season and lauded Bruce Bochy as the "best manager in baseball."
"This season revealed the true character of our team. It also showed, once again, the true character of our fan base. No fans are more loyal than ours," he writes. "You show up no matter what. … Your energy lifts every player and coach. It's one of the most striking things to our new players -- the unusually close relationship between the players and fans. I can tell you that Tim Hudson and Jeremy Affeldt will never forget your outpouring of love and appreciation as they retired from the game."
While he doesn't mention any specifics, Baer says that he and the Giants front office are "already hard at work preparing for 2016," which likely includes scouring analytics and devising a strategy to land a top free agent pitcher to boost their rotation, such as David Price, Johnny Cueto, or Zack Greinke, who is expected to opt out of the remaining three years of his contract with the Dodgers.
Above all, Baer believes the Giants have the foundation assembled for an exciting 2016.