Celtics and 76ers reportedly agree to trade No. 1 and No. 3 overall picks in the NBA Draft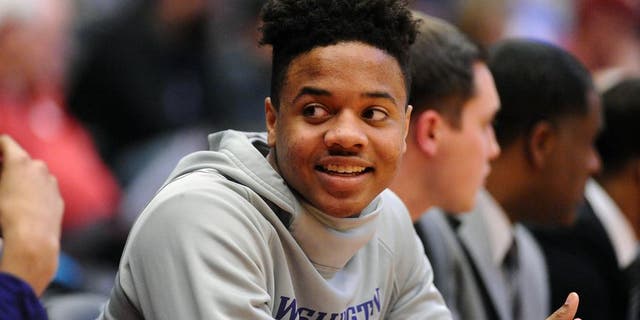 NEWYou can now listen to Fox News articles!
The Philadelphia 76ers wanted a chance to see Markelle Fultz in action before they committed to making a trade with the Boston Celtics for the No. 1 overall pick in the 2017 NBA Draft.
On Saturday evening, the University of Washington point guardworked out in Philadelphia, snapping pictures alongside what could be the 76ers' core for the future. He didn't exactly light up the scoreboard as he struggled on a light 3-point shooting drill, but the Sixers weren't concerned. They just needed to know he was in one piece.
Following that workout, TNT's David Aldridge was first to report the Celtics and Sixers have agreedto swap the first and third picks in this year's draft, as confirmed by Yahoo's Adrian Wojnarowski.
The trade will become official on Monday, according to Aldridge, and the Sixers will make Fultz the No. 1 pick.
A potential deal was first reported on Friday, with multiple reports indicating Boston would acquire at least one additional future first-round pick from Philadelphia, which owns the Lakers' unprotected 2018 selection and Sacramento's unprotected 2019 pick.
Wojarnowski reports the Celtics would get both of those future picks in this trade.
Trading down in this year's draft allows the Celtics to avoid a messy situation, as well. Fultz is the consensus best player available in this year's draft, but Boston already has an all-star point guard in Isaiah Thomas. There are reports the Celtics are interested in one of the top wings in this year's draft, either Kansas' Josh Jackson or Duke's Jayson Tatum. Making this swap with the Sixers gives Boston an opportunity to take the player GM Danny Ainge really wants while continuing to stockpile assets. That interest in either wing also gives the Celtics some flexibility if the Lakers were to surprise everyone by taking Jackson with the second pick.
Philadelphia, meanwhile, looks tocapitalize on another shrewd move by former GM Sam Hinkie, as the Sixers own the third overall pick thanks to 2015 a trade with the Kings. "The Process" Hinkie made so popular in Philly was about trying to get a superstar who can lead the Sixers to a championship. With Fultz set to join Ben Simmons, Joel Embiid and Dario Saric, Philadelphia could be on its way to contention (if everyone can stay healthy).