Cavaliers spoil Warriors' perfect playoff run, send Finals back to Bay down 3-1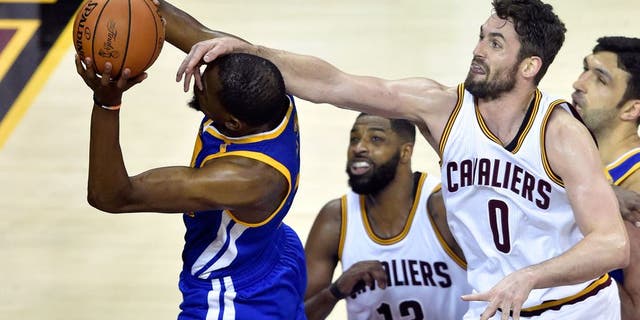 NEWYou can now listen to Fox News articles!
So much for the first perfect postseason in NBA history.
So much for sweeping LeBron James and the defending champion Cleveland Cavaliers on their home court.
If the Golden State Warriors are going to win the NBA Finals and reclaim their throne and make a case for being the greatest team in history they'll have tokeep the Cavs from coming back down 3-1 again.
The Cavs setFinals records with 86 first-half points and 24 three-pointers Friday night in a 137-116 Game 4 victory, avoiding a sweep and sending the series back to the Bay.
James was asked if the Cavaliers had hit the Warriors with their best shot after a gut-wrenching Game 3 loss, in which the Warriors closed on an 11-0 run. James said he didnt know.
Clearly the answer was no, they had not.
James had the ninth triple-double of his Finals career, passing Magic Johnson for the most in NBA history and finishing with 31 points, 10rebounds and 11 assists. Kyrie Irving scored 28 of his 40points in the first half.
The Warriors scored 68 first-half points, capped by a buzzer-beating three by Kevin Durant and still trailed by 18 at halftime.
Durant finished with 35 to lead Golden State.
The Cavs haltedthe Warriors 15-0postseason run and sent the series back to the Bay down 3-1. Last year the Cavs trailed 3-1 before rallying to win the first title in Clevelands history.
Kyle Terada-USA TODAY Sports | Kyle Terada