Cavaliers reveal 3 new jerseys after team's owner trolls with fakes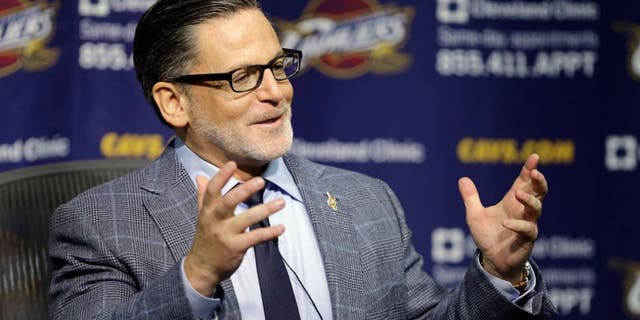 Cleveland Cavaliers owner Dan Gilbert answers questions during a news conference on the day before the NBA basketball team's opening game Wednesday, Oct. 29, 2014, in Cleveland. (AP Photo/Mark Duncan) AP Photo
A few minutes before the news of Tristan Thompson's deal became public knowledge, Cavaliers owner Dan Gilbert took to Twitter to tease the unveiling of three new alternate jersey options.
As you can see, these designs are hideous, and border on the ridiculous. But there was a believability factor given some of what we've seen in jersey designs over the past couple of seasons.
A short time later, he attempted to calm the fans who were freaking out over the first group of designs, before eventually revealing the real ones -- two of which should make the fans in Cleveland extremely pleased.
MORE NEWS: Want stories delivered to you? Sign up for our NBA newsletters.