Carmelo Anthony's former college coach Jim Boeheim says it's 'unlikely' he'll win title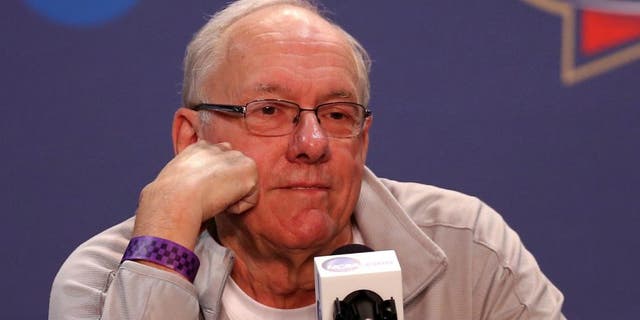 NEWYou can now listen to Fox News articles!
After winning a third gold medal at Rio, Carmelo Anthony is riding high as the United States' most decorated men's basketball Olympian of all time. Shortly after the team returned home, Team USA assistant coach Jim Boeheim, who coached Anthony at Syracuse, spoke to the Syracuse Post-Standard and brought the New York Knicks superstar back down to earth:
He's unlikely to win an NBA title ... He's never been on a team that even had a remote chance of winning an NBA title. As a player, all you can do is try to make your team better and every team he's been on he's made them a lot better. Denver hadn't done anything prior to him getting there and he took them into the playoffs. They weren't going to beat the Lakers or the Spurs. In those years, they won the championship most of the time.
He wants to win in New York ... I know the general opinion is if [new additions Joakim] Noah and [Derrick] Rose are healthy then they'll be a better team. It's just a question of if they will be healthy. They've been off and on the last two years. They've both been hurt. I think if both those guys are healthy, it certainly would make a big difference and [Kristaps] Porzingis continuing to progress. If those things happen, they can be better.''
Boeheim makes it quite clear that, despite Anthony's individual brilliance, the Knicks will not be in a position to compete for the Larry O'Brien Trophy while Melo is still in the league.
He may have a point, as the Knicks have posted a 49-115 record the past two seasons. While that is likely to improve this season after adding Derrick Rose, Joakim Noah, and Courtney Lee in free agency to pair with phenom Kristaps Porzingis ... the window, per the man who might know Carmelo as well as anyone, might be closed.