Cardinals' playoff path takes them on road for 5 of final 7 games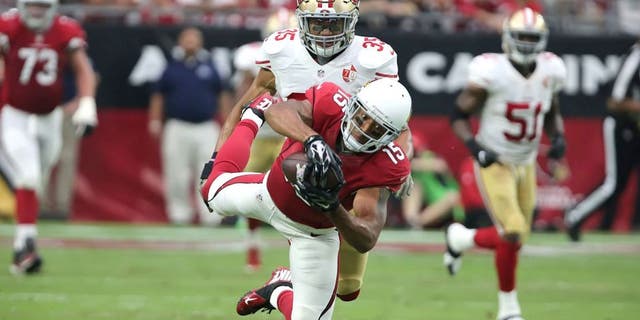 TEMPE, Ariz. -- Arizona coach Bruce Arians was candid as usual when he was asked what would have happened had the Cardinals lost at home to the San Francisco 49ers.
"It's over," he said.
But the Cardinals escaped with a 23-20 victory on Sunday, Chandler Catanzaro kicking a 34-yard field goal as time expired to win it.
At 4-4-1, Arizona can still make a push toward a playoff berth, but the going will be tough.
The Cardinals play five of their remaining seven games on the road, beginning with a trip to Minnesota on Sunday.
"Can't even think about five out of seven," Arians said at his Monday news conference. "If we just think about them one at a time, we'll be fine. This is a great new stadium (at Minnesota). Very, very loud, so we'll have our hands full."
Larry Fitzgerald was having an MRI on his sore knee but Arians said that was just a precaution.
Arians said Fitzgerald and outside linebacker Alex Okafor (calf) "have a chance to practice Wednesday or Thursday."
As for the possibility of Fitzgerald sitting out Sunday's game, "I would be shocked if he misses a game at home," Arians said.
Fitzgerald was born in Minnesota and grew up there.
He caught 12 passes for 133 yards against the 49ers, his first 100-yard game this season and 42nd of his career.
"I wish I could have done it with less targets (18)," Fitzgerald said after the game. "You give me 18 targets in 2006, I might have had 200 yards."
It was the first time in his long career that the 33-year-old receiver had double digit catches in consecutive games. Fitzgerald caught 10 passes in Arizona's previous game, a loss at Carolina.
He acknowledged he was hurting, but he's long been accustomed to playing with pain.
"You don't play 13 years without it," Fitzgerald said. "It's football. You're going to get banged up. It's just part of it. There's a difference between being hurt and being injured. A lot of guys are hurting."
Fitzgerald has missed six games in his 13 NFL seasons.
There's a chance the Cardinals will have do-everything defensive back Tyrann Mathieu back this week. Mathieu injured his shoulder against Carolina and sat out Sunday's win.
"We'll just see how he is," Arians said. "His strength's back. It's good. So he'll be cleared to go and I want to see him practice and see how he looks."
If he does come back, it might be without the knee brace that has slowed him this season. Mathieu was without the brace when he was running during a portion of a practice last week that was open to the media.
"It's about the time we had talked about the brace leaving, so I'm not sure," Arians said. "Again, that's going to be up to him."
Arians said he hasn't decided who the team will lift from the injured list. NFL rules allow a team to bring one player back from the disabled list. Running back Chris Johnson and safety Tyvon Branch are the leading candidates. Both would be eligible to practice this week but couldn't play until the Dec. 4 home game against Washington.
The Cardinals were rooting hard for New England on Sunday night but the Patriots came up just short in a loss to Seattle. The Seahawks remain two games up on Arizona in the NFC West. The Cardinals' best shot at a playoff berth might be as a wild card. They are just behind a number of teams in those standings, including the Vikings, who are 5-4 but have lost four in a row.
Arizona's running game was shut down for the second consecutive game. The 49ers (1-8) entered the game ranked last in the NFL in run defense but held Arizona to 80 yards in 23 plays. David Johnson gained just 55 yards in 19 carries.
Arians did not place the blame on John Wetzel in his first start at left tackle after replacing Jared Veldheer, who is out for the season with a torn triceps. Arians said he thought Wetzel "played a really solid game."
He was not so kind to the rest of the offensive line.
"They kicked our butt," Arians said. "They had safeties down in there. They did a couple of different stunts we hadn't practiced. A different front, but nothing we haven't seen all year. We just didn't block very well."