Cardinals place Wong on DL, recall DeJong from Memphis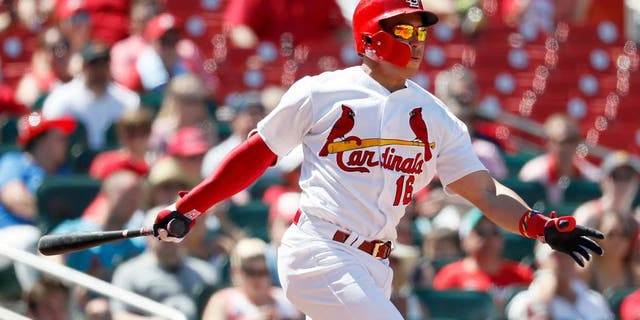 NEWYou can now listen to Fox News articles!
ST. LOUIS -- Paul DeJong wasn't back in the minors forlong -- just three days, in fact. All it took was another Kolten Wong trip to the disabled list to get him back withSt. Louis.
The Cardinals placed Wong on the 10-day disabled listThursdaywith a right tricep strain and recalled DeJong from Triple-A Memphis.
Wong, 26, was removed from Wednesday nights game against Milwaukee in the top of the sixth inning. He had beenon a six-game hitting streak in which heraised his batting average to .301.
Wong had been back on active duty for less than a week before suffering the tricep strain. He missed 13 games from May 27-June 8 with a left elbow injury and wasactivated from the disabled list June 9.
DeJong, 23, got his first taste of major league action after Wong hurt his elbow, earning a promotion from Memphis to replace Wong on the roster. He made his big-league debut May 28 in Colorado and hita home run in his first career at-bat. He played 12 games at second base and shortstop while batting .244 (10-for-41) with that home run and four RBIs.
The Cardinals optioned DeJong to Memphis two days after Wong's return last week. DeJonghomered in each of his first two games back in Memphis, going 3-for-7 with three RBIs and four runs scored. He ranks tied for ninth in the Pacific Coast League with 13 home runs and is 10th with a.571 slugging percentage.
But with Wong hurt again, DeJong gets another chance to show he deserves to stick in the majors.