Cardinals' Peterson laments momentum-sapping turnover versus Panthers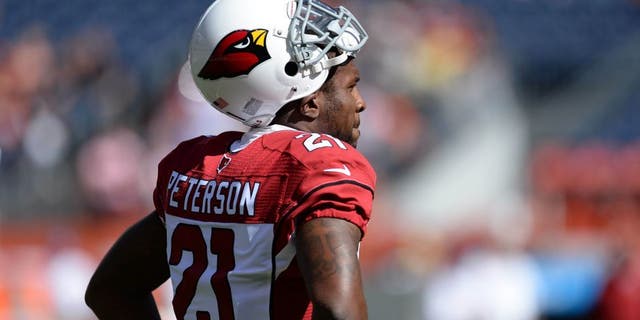 NEWYou can now listen to Fox News articles!
Six turnovers committed by quarterback Carson Palmer pretty much told the story of the Arizona Cardinals' lopsided loss in Sunday's NFC title game at the Carolina Panthers.
However, it was another miscue by Arizona that had the most devasting impact in the 49-15 beat-down - and paved the way for the top-seeded Panthers to roll into a Super Bowl matchup against the Denver Broncos.
Cornerback Patrick Peterson, only the second player in franchise history to be named to the Pro Bowl in each of his first five seasons, was the unlikely culprit for the Cardinals. Peterson's botched punt return late in the second quarter led to a touchdown that sent Carolina to the locker room with a 24-7 lead.
"I was trying to be aggressive," Peterson told reporters after the game. "Run under the punt, but at the last minute, the ball shifted on me and I kind of outran the ball and it hit my shoulder and the rest speaks for itself."
Given the final score, Peterson's mistake may not have mattered at the end, but it came at a crucial juncture. After rookie David Johnson powered into the end zone to cut the deficit to 17-7, Arizona's defense forced a three-and-out, but Peterson muffed the short punt and the Panthers recovered at the Cardinals' 46-yard line.
Carolina needed only five plays to convert the turnover into a touchdown run by quarterback Cam Newton. Peterson somehwat atoned for the error by returning an interception 72 yards right before intermission, but Palmer was picked off in the end zone on the next play and No. 2 Arizona never threatened again.
"I've just got to be smart in that position," Peterson said of bumbling the punt. "... I'm trying to be a playmaker. I'm not going to regret going after that ball. I just need to make sure I'm smarter in that situation of fielding the ball and make sure I give the ball back to our offense and not the opposing team's quarterback."