Cardinals optimistic of Ellington's return vs. Lions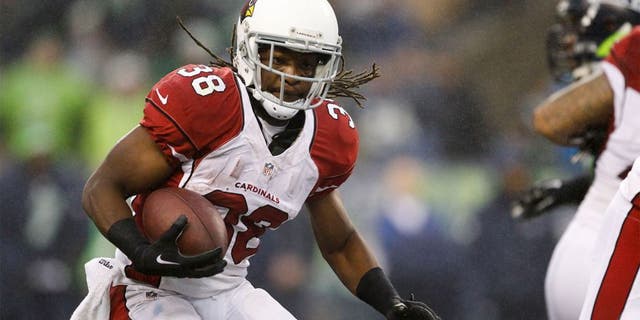 NEWYou can now listen to Fox News articles!
Although Arizona Cardinals running back Andre Ellington was inactive for a third straight game Sunday, coach Bruce Arians said it was a last-minute decision to hold him out.
Ellington, who has been sidelined since the season opener due to a sprained knee, was "very close" to playing against the St. Louis Rams. "It was between him and a healthy player," Arians said.
Cardinals general manager Steve Keim is optimistic Ellington will be ready for next weekend's game against the Detroit Lions.
"He was close to being ready this week. As a matter of fact he practiced and I thought he looked pretty good out there," Keim said per Arizona Sports. "But I think he feels pretty good and he's excited and ready to go. Hopefully he'll have a good week of preparation and we'll see him out there against Detroit."
Chris Johnson has played well in Ellington's absence, rushing for 110 yards and two touchdowns in Week 3 and adding 83 yards on 16 carries in Sunday's loss.
Rookie David Johnson has also had a large role in the backfield in Ellington's absence, and Keim told hosts Doug Franz and Ron Wolfley that the third-round draft pick's play in Sunday's 24-22 loss to the Rams was emblematic of the team as a whole.
"It was one of those days where you saw guys, like a rookie like David Johnson do some things where you're like, 'wow, what a phenomenal skill-set the guy has,' and then he has a fumble on the opening kickoff and he has a dropped touchdown. There's a lot of good things to take away from it and some bad. The thing that's positive to me . . . is that we were still in the game with a few minutes to go to win the game and we played as poorly as we did."