Cardinals go for sweep of Marte-less Pirates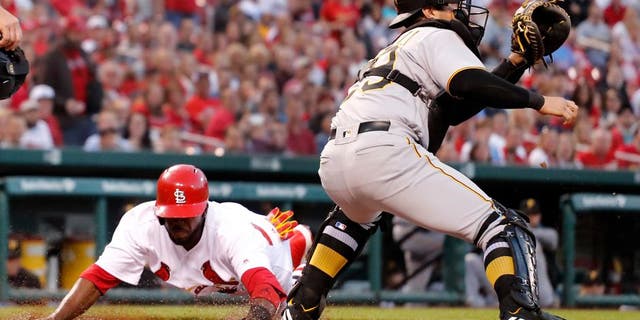 In their first game without Starling Marte until sometime in July, the Pittsburgh Pirates were reminded in some ways of how much they will miss their new center fielder.
Marte is out for 80 games, caught using nandrolone, a performance-enhancer prohibited by Major League Baseball. Perhaps Marte's presence could have made a difference Tuesday night in a 2-1 loss to St. Louis in which Pittsburgh outhit the Cardinals 11-4 but went 1-for-10 with men in scoring position and stranded nine runners.
The Pirates (6-8) will try to make up for Marte's absence and avoid a sweep at St. Louis' hands Wednesday in a matinee wrap-up to a three-game series at Busch Stadium.
Marte apologized to the team and his fans in a statement Tuesday, but he didn't take questions from reporters. Pittsburgh replaced him on the roster with Triple-A call-up Jose Osuna, whose first act as a big-leaguer was to rap into a seventh-inning double play with men at first and second.
If nothing else, the Pirates have a more-than-capable replacement for Marte in center. Andrew McCutchen, who moved to right after playing his first eight seasons in center, made two nice running catches on balls that appeared ticketed for extra bases in his return to center. He also went 2-for-4 to stretch his hitting streak to nine games.
McCutchen is glad to return to the spot that he played with distinction for most of his career.
"Center field is where I need to play," he said. "It's where I need to be. If I've got to show a couple of people that I can do it, that's what I'm going to do. I'm just doing my job."
To avoid what would be its third series sweep, Pittsburgh will give the ball to its ace. Right-hander Gerrit Cole (1-1, 5.29 ERA) is coming off his first win, a 4-2 decision Friday night at Chicago in which he outpitched the Cubs' Kyle Hendricks over six solid innings.
Cole has also been successful in 10 career outings against the Cardinals, winning five and losing three while pitching to a 2.82 ERA. One of those victories occurred last May against the guy he will face Wednesday, Michael Wacha.
Wacha, a former National League Championship Series Most Valuable Player, is coming off a 4-3 loss Friday night at the New York Yankees despite recording eight strikeouts in six innings. Wacha (1-1, 3.00 ERA) owns a 3-2 record and a 4.25 ERA in 11 career games (10 starts) against the Pirates.
St. Louis (5-9) is hoping that Matt Carpenter (swollen right ring finger) will return after missing the past two games.
The Cardinals got a good sign Tuesday night in the form of Dexter Fowler's leadoff triple that led to the game's first run, only his second hit in 20 at-bats.
Fowler, who is batting .143 in 14 games, felt chipper afterward for two reasons -- his second extra-base hit as a Cardinal and the team's first back-to-back wins.
"It felt good to hit a ball hard and see it not get caught," he said with a smile. "We're getting some positive juju going our way and eliminating the mistakes."