Captain Lloris wants France to prove a point at Euro 2016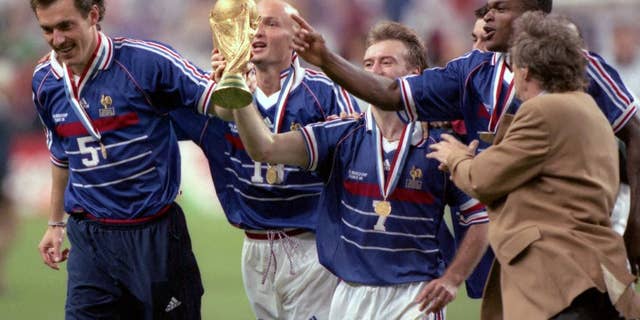 NEWYou can now listen to Fox News articles!
PARIS – France's billing as one of the European Championship favorites means nothing to captain Hugo Lloris, who is demanding a strong start in Friday's opening match against Romania.
Although France is in good form, scoring 13 goals in the past four matches, it has played only friendly games since losing to Germany in the World Cup quarterfinals two years ago.
"There's a lot of expectation. We know the importance of this match, how important it is to make a good start," Lloris said on Thursday at the pre-match news conference. "We've played friendlies for two years and there have been a lot of positives, but things start for real tomorrow."
France has international pedigree, winning the 1998 World Cup and the Euros in 1984 and 2000. But since reaching the 2006 World Cup final it has been a fading force in a decade dominated by Spain, winner of the past two Euros and the 2010 World Cup, and by Germany, which won the last World Cup.
First round exits at Euro 2008 and at the 2010 World Cup — a shambolic campaign featuring an embarrassing players' strike — dented confidence hugely. Although form was regained two years ago at the World Cup, France's performances in Brazil still lacked the panache of old.
"We've done nothing, we haven't proved anything compared to Germany and Spain," Lloris said. "But playing on home soil gives us a little bit of an advantage and we have to use it."
The 29-year-old Lloris, one of the Premier League's best goalkeepers for Tottenham, stands to win his 76th cap.
"For everyone it's the most important competition of their career. If you ask my teammates, they'd say the same," he said. "As long as we have this spirit, the hunger to win tackles I have no doubts."
However, Romania coach Anghel Iordanescu is pretty confident he has France figured out.
"They have some shortcomings at the back," he said. "We've worked with the video analysts to devise a team plan. Our plan is to compete on an even footing."
Romania prides itself on a rock-solid defense after conceding only two goals in 10 games in qualifying, giving Iordanescu the firm belief his side can get an upset.
"I'm sure our players are ready to overcome the spells of pressure and domination they're likely to face," he said. "We don't simply want to defend; we want to have a balanced style of play and cause problems for the French."
France coach Didier Deschamps expects Romania's players will hunt his players down relentlessly and make good use of whatever possession they get.
"They're very well organized in defense, but they can also close you down high up and force you into mistakes," he said. "They can break quickly from defense to attack with their fast, technical players."
Rather than adopting a patient, probing approach like Spain does, rapid passing to feed its quick wingers may be the best option for France.
"I prefer to play more directly even if it means taking more risks," Deschamps said. "I don't think I have the right team to hold the ball and wear teams down. I think we have a team more capable of accelerating play."