Canadian women's hockey player immediately removes silver medal after loss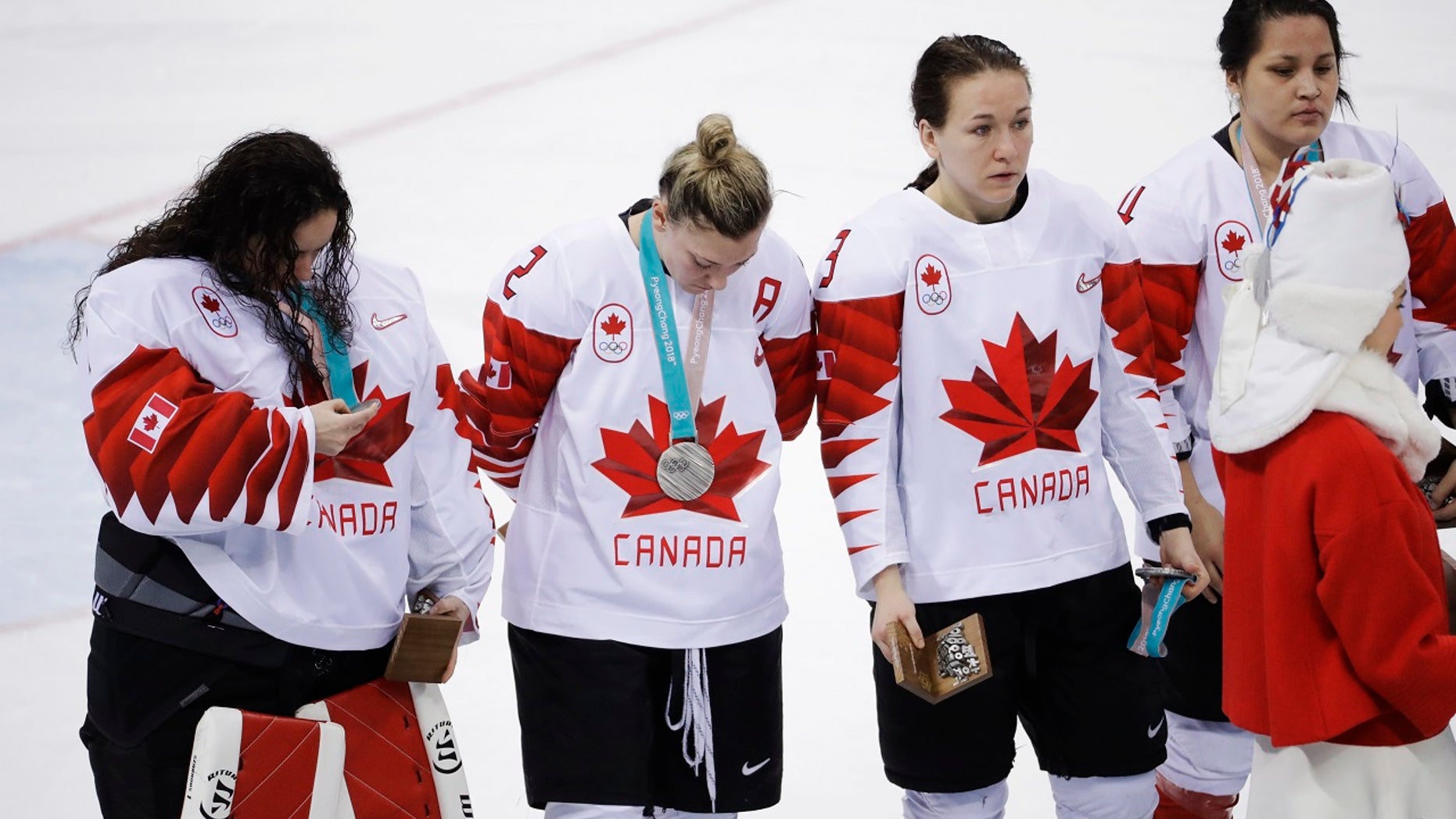 A Canadian women's hockey player apparently unhappy with winning a silver medal after being defeated by the U.S. team abruptly took off the medal during the ceremony after the game.
The Canadians, who had pushed the Americans around for much of the game and taken penalties for it, wept on the ice as they accepted their silver medals.
Jocelyne Larocque took hers off immediately and held it in her hands as the Americans stood nearby awaiting their gold.
"It's just hard," Larocque said. "You work so hard. We wanted gold but didn't get it."
Larocque was swiftly criticized on social media for what appeared to some as unsportsman-like conduct.
"Poor sportsmanship," one woman posted on Twitter. "You can't win every time. Wait until you're off the ice to be bitter and salty."
Others on social media let the move slide and said it was just her competitive spirit.
The Canadians said they didn't like the shootout format , preferring overtime to settle a game of such magnitude.
"We've trained so hard," one Canadian player said. "It's unfortunate this had to come down to a shootout. When it comes down to a shootout it can be anybody's game."
Canada has won the last four Olympic gold medals.
The United States delivered a shocking 3-2 upset over Canada Thursday night, with Jocelyne Lamoureux-Davidson delivering the winning goal in a sudden death shootout to cap off the historic victory.
Canadian coach Laura Schuler echoed the sentiments of her players following the game that took a 20-minute over time, and a shootout to determine the winner.
"There's not a lot of words that can describe how you feel," Schuler said. "It was a great game of hockey."
U.S. goalie Maddie Rooney played an essential role in the game, stopping 29 shots in regulation and the 20-minute overtime, as well as blocked Meghan Agosta's shot on her second try of the shootout to secure the win.
"It is everything for our country," U.S. coach Robb Stauber said. "I am just so thankful for the outcome. It was a thrilling final. It was unreal."
During regulation, Hilary Knight and Monique Lamoureux-Morando, Jocelyne's twin sister, scored the American goals. While Marie-Philip Poulin and Haley Irwin scored in regulation for Canada.
It was 2-2 after three periods and 2-2 through five shooters in the tie-breaker, before Lamoureux-Davidson scored in the first extra round of the first shootout tiebreaker to cap off the 3-2 victory.
This was the first shootout in Olympic women's hockey history, and the second straight overtime championship game between the U.S. and Canada.
The Associated Press contributed to this report.