Can Brandon Allen lead Arkansas to the road upset?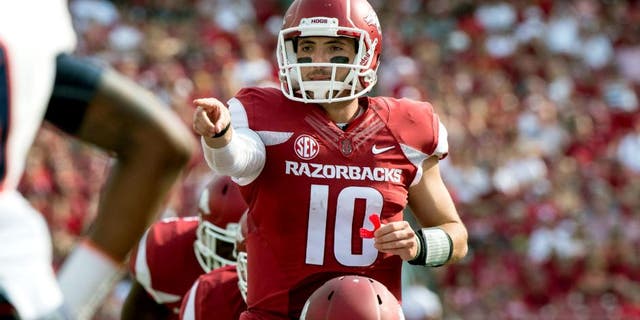 Can Allen win his second conference road game this weekend? Jerome Miron USA TODAY Sports
Do you know who the most experienced SEC quarterback coming into the season was? It wasn't Dak Prescott, Joshua Dobbs or Patrick Towles, it was Arkansas senior Brandon Allen. The experience has paid off, as Allen is playing the best football of his career for the Hogs this season.
"I think BA is an improved quarterback from a year ago, but I think in general we're a better offense because of personnel," Arkansas head coach Bret Bielema said Wednesday. "Your quarterback is better with better players around him."
Playing behind an experienced offensive line, arguably the conference's best tight end and an improved running back in Alex Collins, the Razorbacks have the ability to strike a defense in a varied of methods.
"They are doing a very nice job of making you honor both (the run and pass)," Ole Miss Hugh Freeze said. "He's a talented kid. He takes care of the ball. When he is given his opportunity, he has been able to produce. There is no reason for him to change."
After a slow start, Arkansas has won three of its last four games and scored 107 points the last two games -- both victories. If the Rebels suffer from a letdown, Allen may just lead Arkansas to another upset on the road in conference play.