Calvin Johnson doesn't make excuses, shoulders blame for loss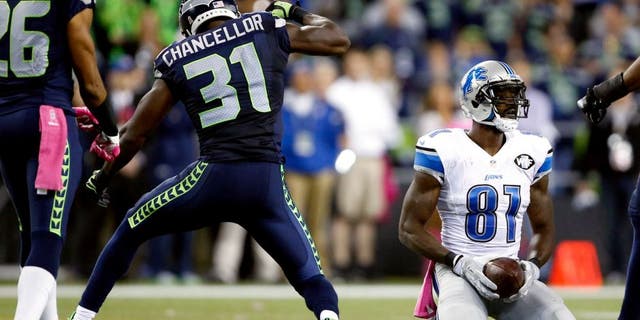 NEWYou can now listen to Fox News articles!
You have to give Calvin Johnson credit. The Lions wideout stood there and answered all the questions about his controversial game-sealing fumble in Detroit's 13-10 loss to the Seahawks.
Johnson looked primed to score the game-winning touchdown with under two minutes to go, lunging for the end zone before Seahawks safety Kam Chancellor punched the ball out inches before he could score.
Even before the hullabaloo that ensued after about K.J. Wright batting the ball and whether or not the refs blew another call that benefitted the Seahawks, Johnson stood at his locker afterwards and said the blame was squarely on his shoulders.
"At the end of the day really got to hold onto the ball. Enough said after that," Johnson said.
Was there anything else he could have done?
"Obviously just keep it tighter," Johnson continued. "We had opportunities to go down and ice the game...that fumble cost us."
With the Lions now 0-4, it seems like a matter of inches may have cost them their season, to which Johnson replied: "It's tough. It's unfortunate."
Check out his full postgame interview here.
After Chancellor knocked out the ball, Wright batted it out of the end zone to prevent anyone else from recovering it. NFL VP of officiating Dean Blandino later said that a flag should have been thrown on the bat of the ball, and the Lions should have gotten the ball back inside the 1 yard line.
Lions head coach Jim Caldwell wasn't having any of that, either.
"I'm not even going to go there," he said when asked about the refs. "Talk to (Dean) Blandino and the rest of those guys. They'll explain it."
When pushed on the topic, Caldwell, noticeably frustrated, said: "What can you do? We're not going to cry about it. That's for sure."
Check out this full interview here: