Cain Velasquez returns to UFC after 2 years out of the octagon for heavyweight title bout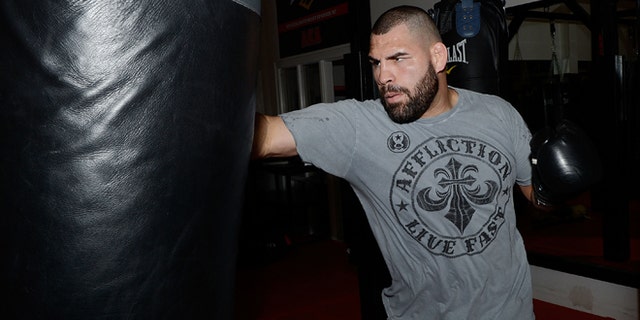 MEXICO CITY (AP) – Nearly two years after his last fight, Cain Velasquez will make his long-awaited return to the octagon Saturday night in a fight against Fabricio Werdum for the heavyweight title at UFC 188.
Velasquez (13-1), who has not fought since an impressive victory over Junior Dos Santos at UFC 166 in October 2013, was scheduled to go against Werdum last November. But a right knee injury forced the Mexican-American to cancel.
At UFC 180, instead of Velasquez, Werdum fought Mark Hunt and got the win in the second round to earn the interim belt. Now Velasquez claims to be in the best shape of his career and ready to show his loyal fans in Mexico that he still has what it takes.
"I'm anxious to return, it's been a while, but I'm focused and ready to prove that I'm still the best," Velasquez told the Associated Press. "I'm ready for him, the conditioning has been great, there are no excuses. I just want to fight and not talk too much."
The 32-year-old Velasquez has been plagued by injuries throughout his career, but when healthy he's known to be a relentless fighter who dominates in the cage.
"I understand that people can have doubts, but I don't. Even though I have not had a fight at the professional level, I have done a lot of sparring since 2013. I'm confident," added Velasquez, who suffered a shoulder and a knee injury since his last fight.
Werdum (19-5-1) will put Velasquez's claims to the test. He currently is on a five-fight winning streak, including his TKO over Hunt last November.
"I have a belt and I want another one. I been waiting so long for this fight," Werdum said. "I want to be world champion to prove it to everyone, but most of all for me."
A Brazilian jiujitsu specialist, Werdum has worked hard since he started training under coach Rafael Cordeiro to become a more complete fighter. That could help him against a fighter who could be rusty in the cage.
"He has not fought in two years, that's going to affect him," said Werdum. "You got to have rhythm to have a good fight, and I'm not sure he has it."
What Velasquez has in his favor is that local fans see him as one of their own even though they know he was born in the United States.
Werdum put some fire into the bout when he said that Velasquez "is an American trying to be Mexican."
"My parents are from Mexico, I have Mexican blood and I'm very proud of it," said Velasquez, who refused to shake hands with Werdum after that. "He was trying to shake my hand, but you cannot badmouth me one day and then try to be all friendly on the next. That's stupid. I'm not his friend, and I will kick his butt."
Werdum, who speaks fluent Spanish and has trained in Mexico for long periods, has downplayed the incident.
"He does not want to shake my hand because he claims I'm two-faced. Maybe he's just looking for extra motivation because I only told the truth. I didn't insult him, he was born in the U.S. I did not disrespect him," Werdum added. "He does not scare me, only my mother does."
The undercard features rising Mexican-American welterweight Kelvin Gastelum against Nate Marquardt, along with bantamweights Chico Camus against Henry Cejudo.
Like us on Facebook
Follow us on Twitter & Instagram