Cain Velasquez plans to scale back sparring to stay healthy ahead of UFC 200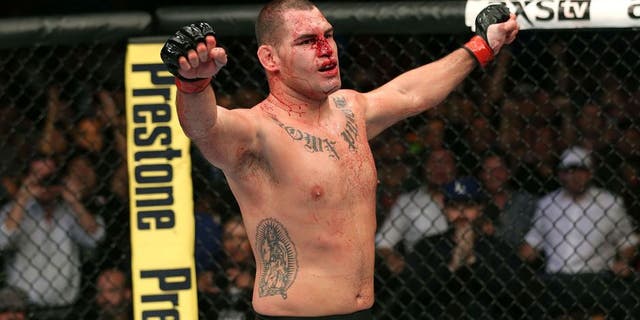 NEWYou can now listen to Fox News articles!
Cain Velasquez is one of the best fighters MMA has ever seen. Still, the two-time heavyweight champion has had multiple long layoffs due to serious injury, halting his progress multiple times.
In July, at UFC 200, he'll face Travis Browne after yet another long absence away from the cage. The wrestler spent years honing his skills and toughness to be fight-ready, and now his priority is simply staying healthy long enough to make it to a fight.
It is a common goal for veteran fighters, and Cain has been forced to listen to what his body tells him. "The number one thing is making it to the fight now," he told media members Tuesday in Los Angeles.
"Just listening to your body...I don't want to be out. I want to be active. I want to fight. It's my job and I want to do it."
Velasquez does believe that his AKA team gets an unfair reputation for having a training style that leads to injuries just because so many of them, like teammates Daniel Cormier and Luke Rockhold, are high-profile athletes. "I would think so, yeah," he opined.
Cain admits that AKA trains hard -- real hard. It has made him and fighters like him as elite as they are, but hard training is walking along a razor's edge and leads to injuries even as it is a requirement for greatness.
"We do hard workouts that take a toll on your body, but it benefits us when we're out there in the fight," he explained.
"It's good and bad."
Velasquez believes in the results a career spent at AKA have produced, but he's also planning to turn back some of the damaging grinding ahead of his UFC 200 fight. Most significantly, Velasquez plans to spar a lot less than usual during his training camp.
"Sparring three times a week isn't as beneficial to me as, say, a guy who is just coming into the sport," he reasoned.
"I think I'll cut sparring down to two days a week, maybe even one day."
Luckily, Cain knows how to fight. So, he feels confident that as long as he gets a bit of sparring in and gets his conditioning up to a high level, he'll be just as sharp as ever come fight night.
"As long as I'm conditioned and sharp, that's all I need," he concluded.
"I've had the experience from practice, so that's all I need."